Case Studies Transforming Graphic Communications
Idealliance has been in the forefront of many—if not most—essential workflow transformations to remove friction in the graphic communications supply chain. It has engaged partners from upstream brands, publishers, creative and advertising agencies, and print buyers, to print service providers, industry suppliers, and technology partners, to speed information, reduce cost, and create efficiencies.
Idealliance has excelled at partnering with the International Organization for Standardization (ISO), other industry groups, and Idealliance international affiliate offices, to become a world leader in standards development. Idealliance serves as a Liaison A delegate to ISO to fast-track standard development. 
Since its founding in 1966, each generation of Idealliance has redefined itself and the industry, creating standards-based, automatable processes, enabling every part of the print supply chain to change, grow, and prosper. Idealliance stays relevant in a changing print and packaging industry, serving its members by guiding the next revolution in graphic communications.
Here is a compendium of innovation from Idealliance – reaching back to its 55 year history – as the leader in workflow transformation for the graphic communications industry.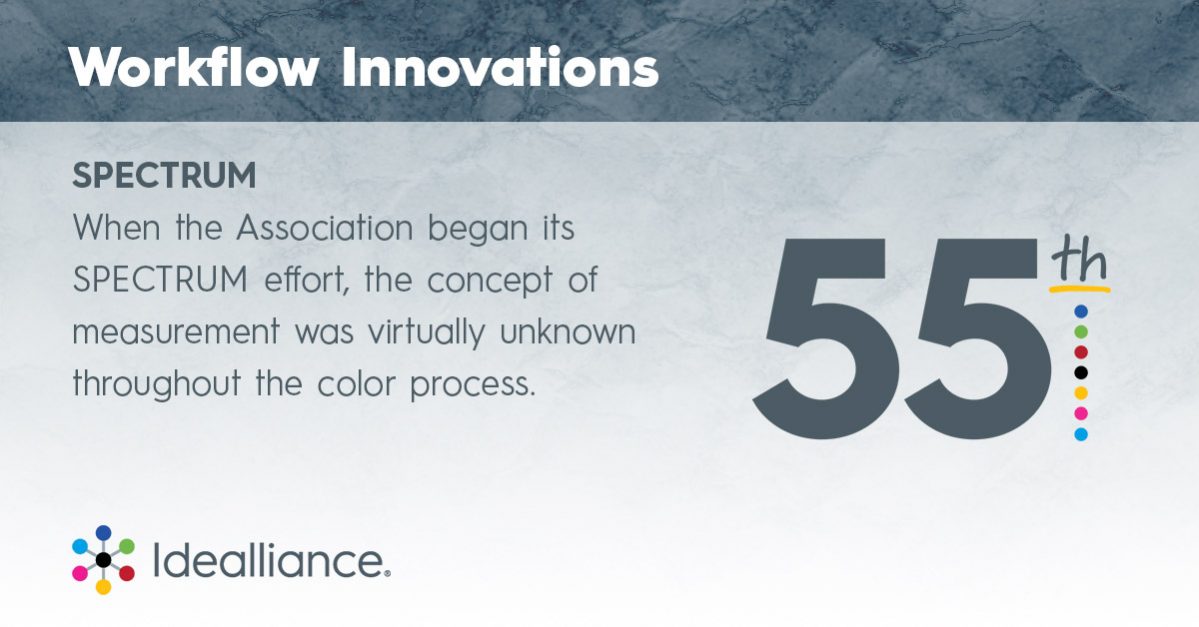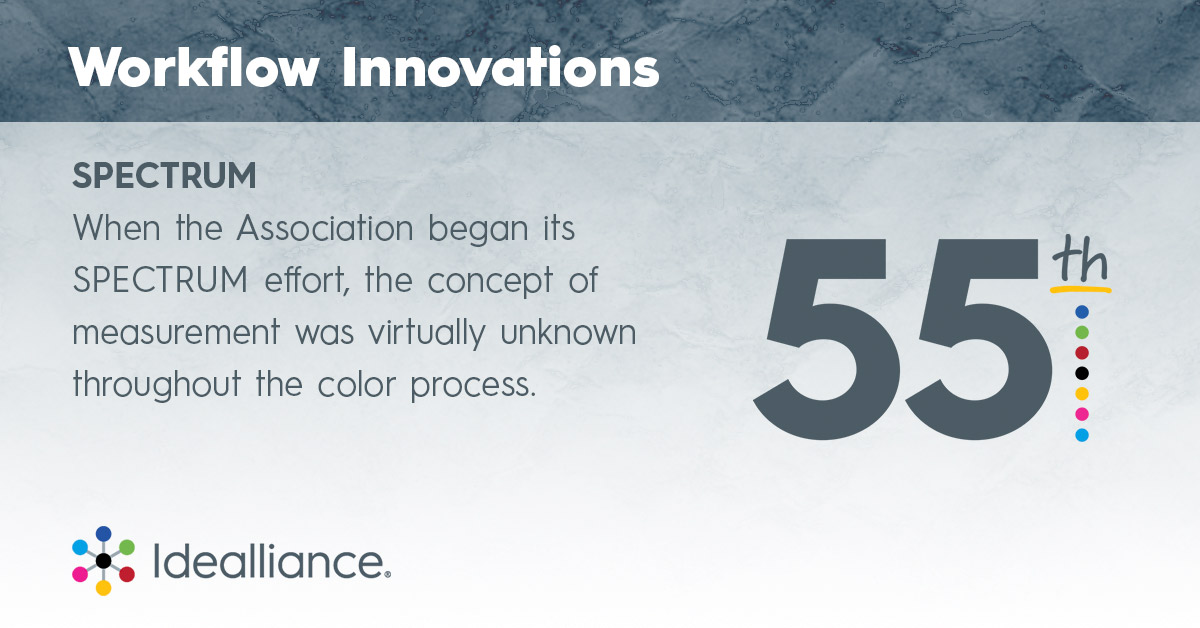 Through the annual cycle of discovery, testing, and reporting the Idealliance SPECTRUM connection advanced the science of print, revolutionized workflows, developed specifications, fostered implementation of emerging print technologies.
Read More »
More Innovations
Over the history of Idealliance, we have revolutionized graphic communications workflows in a wide array of business and production processes through collaborative working groups that developed specifications and guidelines.
Four initiatives stand out:
Standardized method for publishers to communicate job order including EDI (2002) and XML (2016) (Production Order Specification – PROSE XML);
Since 1995 created and published the mailing industry definitive standard on data exchange and communication for processing and entry of mail across list processing, print production, mailing services, and the U.S. Postal Service (Mail.dat®and Mail.XML™ – now published by Delivery Technology Advocacy Council);
Global communication XML standard for the paper and forest products industries automating business processes (papiNet®) partnering with the American Forest & Paper Association and a European paper producers consortium (papiNet GIE); and
Calibration and color management (GRACoL® – General Requirements for Applications in Commercial Offset Lithography).
All About Idealliance Membership
The central goal of Idealliance is to help everyone worldwide in the print and packaging supply chain cope with the continuous change in the graphic communications field and embrace and profit from it. The standardization initiatives of Idealliance are guided by working groups engaging all partners in a supply chain and the individual member. Idealliance is who it is because of its unique members. Idealliance appreciate the members who have been instrumental to its success and who continue to stay involved to help set the course for future innovation and growth.
Become a member of Idealliance and transform the way you work—forever.