Workflow Innovations—SWOP (Specification for Web Offset Publications)
February 7, 2021

Category:

Updates

,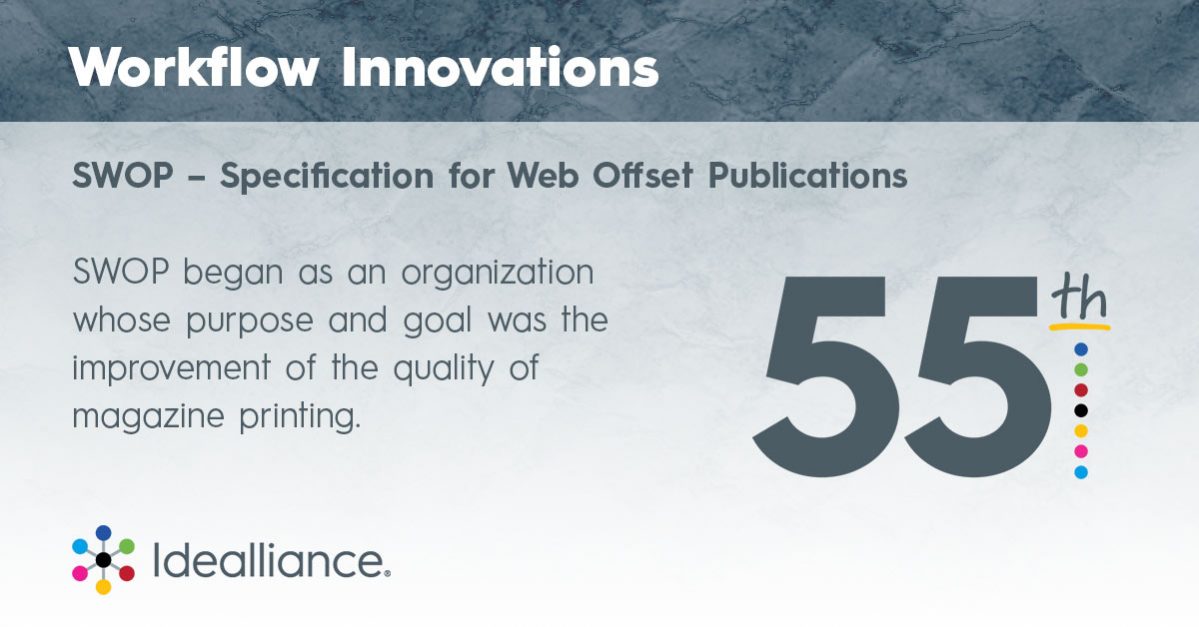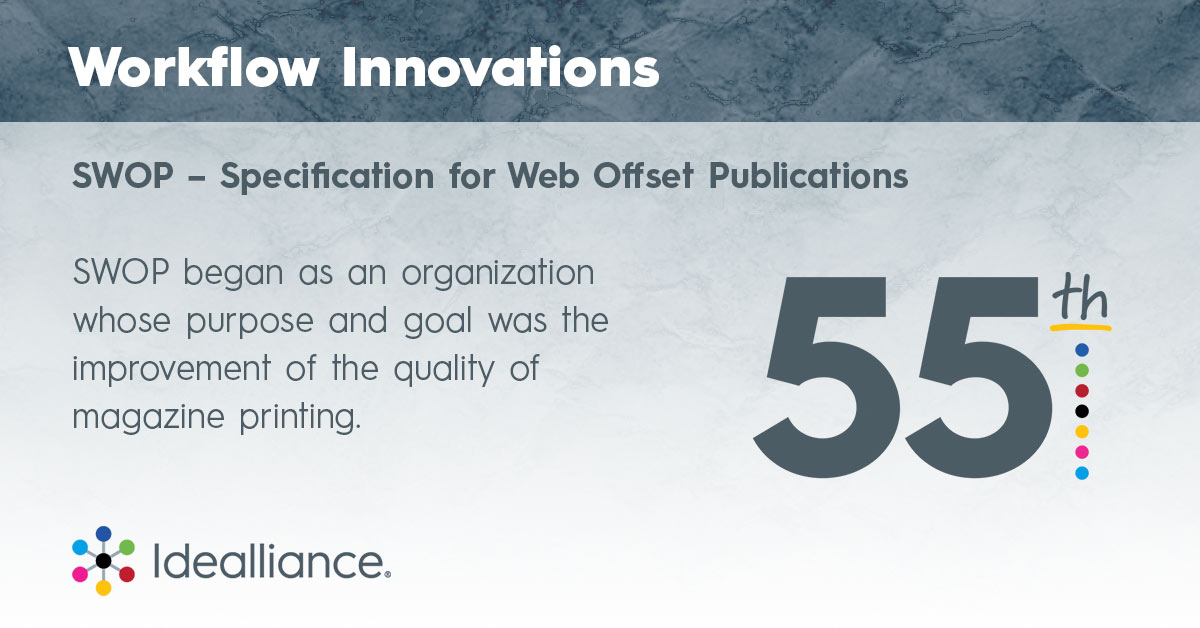 Idealliance understands that productivity and efficiency are at the center of an effective workflow. We have created standards-based, automatable processes, enabling every part of the print supply chain to change, grow, and prosper. Over many decades, as both disrupter and architect, Idealliance has reimagined future workflows, shaping the way our supply chain partners operate. This series explores the history of many of those workflow innovations.
What is SWOP?
SWOP – Specification for Web Offset Publications
Prior to the magazine publishing industry changing from letterpress printing to web offset printing in the late 1960's and early 1970's, the photoengraving industry supplied letterpress plates and proofs to the magazine publishers. For some time there had been a problem that the publishers had to cope with in maintaining the quality of their publications.
In 1974, to provide a solution to the discrepancy between proofing technology and web offset printing, a group of industry leaders, some of whom had been involved in the letterpress era, met to explore the possibility of forming a committee to write specifications for material being supplied to web offset publication printers.
The group invited representatives of the Advertising, Publishing, Prepress and Printing industries, and various other segments of the graphic arts industry to a meeting in early 1975. 
At that meeting it was decided to develop specifications and to invite all interested parties and organizations to participate. It was also decided that the agreement of all endorsing organizations should be unanimous for the approval of the specifications and future updates. 
The organization known as SWOP (Specifications for Web Offset Publications) was formed. SWOP began as an organization whose purpose and goal was the improvement of the quality of magazine printing. In 1988, SWOP was incorporated as a "not for profit" independent associations with William Sullivan, then of McGraw Hill, elected as Chairman, a post he held until 1991. An initial set of specifications were published beginning in 1975. Updates were published in 1977, 1978, 1981, 1986, 1988, 1993, 1997, 2001 and 2004 – each taking new steps applying and advancing technologies and workflows.
With the emergence in the early 2000's of digital technology, the industry went through dramatic change. It became apparent that SWOP's position in the industry was also changing. The quality of magazine printing had been raised to new heights by the work of SWOP.
In 2005, SWOP merged into Idealliance and the SWOP specification became part of a suite of color spaces along with GRACoL, now as part of ISO/PAS 15339 and the 7 common global reference print conditions (CRPCs).
Excerpts from article by the SWOP Chairman: Joel Rubin, Owner/Chairman/CEO, Phototype Color Graphics, Pennsauken, NJ (1950-2001) and Nubar Nakashian, Partner/President, Gotham Graphics, Lyndhurst, NY (1984-2008).
---
Workflow Innovations from Idealliance
papiNet
PROSE XML
Mail.dat
---