Idealliance & Ryerson University Graphic Communications Management Program Partner to Offer Students Training & Certification as part of Critical Career Development for Rising Graduates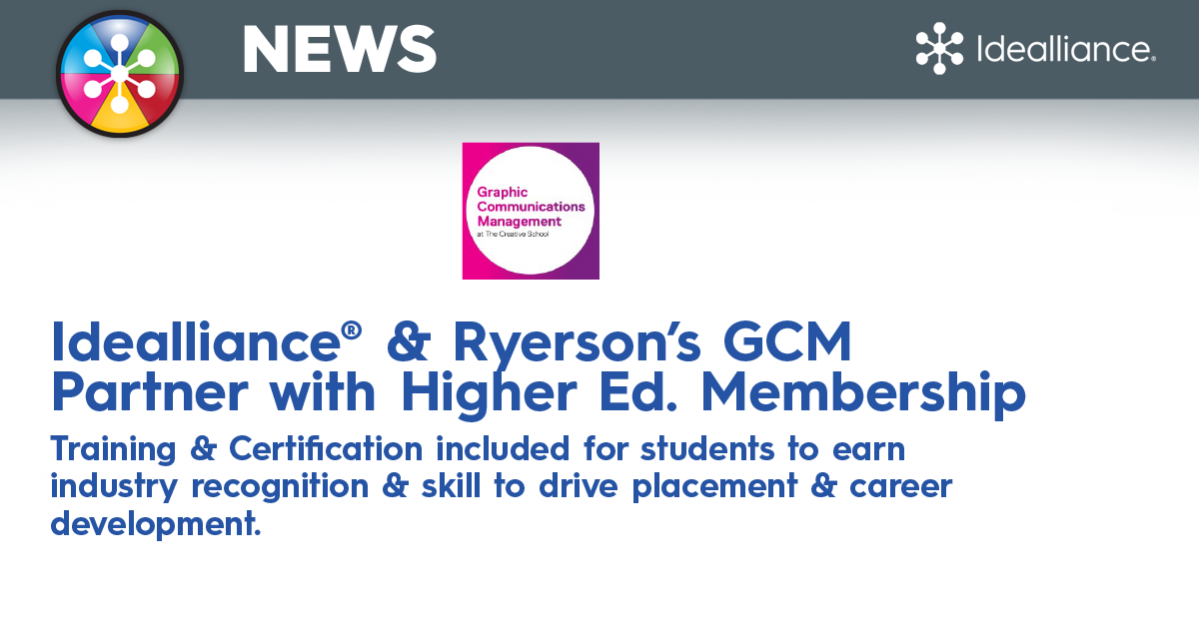 Students and recent graduates at Ryerson University's School of Graphic Communications Management have long been recognized among the industry as some of the most capable entrants into the industry as they complete the GCM's established coursework spanning printing packaging and graphic communications management. 
Idealliance has also, through its Higher Education membership program, committed to providing students at Ryerson's GCM program an extensive profile of industry recognized Idealliance training and certification. 
Recently, Lorena Florea, a high achieving 4th year student, studying graphic communications at Ryerson University in Toronto was profiled. Lorena interned at Graphic Arts Magazine, and is currently working part-time as an account coordinator at SGK, and coordinating the publication of the Class of 2022 graduates' book. In addition, Lorena enrolled in all of the Idealliance online Color Management Professional (CMP) series of courses, covering Creative, Digital, Premedia, Offset, and Sales focused color management applications and achieved the industry recognized CMP Master certification.
Department Chair, Prof Martin Habekost notes, "We are grateful to our industry partners and the availability of these certifications for our students."   
Learn more about Idealliance's support and industry development as part of the Higher Education membership program here. Sponsorship opportunities are available for Idealliance industry members to support Higher Education Institutes to provide this essential learning to rising graduates and future industry peers.
Lorena Florea, recent Ryerson graduate & Idealliance certified Color Management Professional® Master
ABOUT IDEALLIANCE
Idealliance is a transformational industry association for print and packaging, working with brand owners, content and media creators, agencies, designers, material suppliers, OEMs, technology developers, and service providers around the world. We serve the graphic communication industry by creating superior industry training and certification programs, developing professional standards and specifications, and redefining workflows for the entire print and packaging supply chain.
Become a member of Idealliance and transform the way you work—forever.
About PRINTING United Alliance
PRINTING United Alliance is the most comprehensive member-based printing and graphic arts association in the United States, comprised of the vast communities which it represents. The Alliance serves industry professionals across market segments with preeminent education, training, workshops, events, research, government and legislative representation, safety, and environmental sustainability guidance, as well as resources from the leading media company in the industry – NAPCO Media. Now a division of PRINTING United Alliance, Idealliance is the global leader in G7 standards training and certification for printing and graphic arts operations across the entire industry supply chain.
PRINTING United Alliance also produces the PRINTING United Expo, the most influential days in printing. The expansive display of technology and supplies, education, programming, and services are showcased to the industry at large, and represents all market segments in one easily accessed place.