Idealliance Releases Updated Hard Proofing System Certification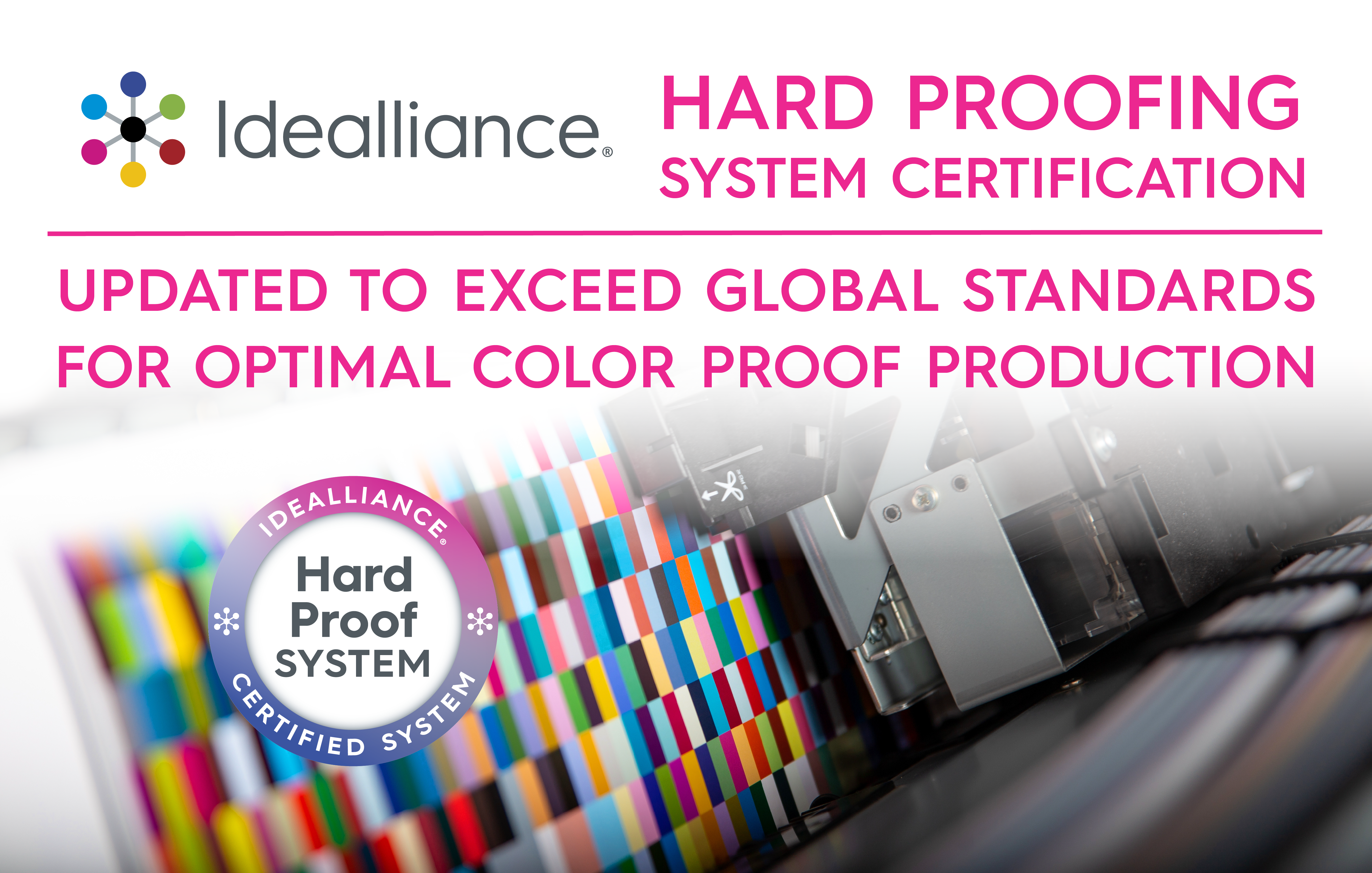 Idealliance, the global leader in standards, specifications, and certification in printing, packaging, and design, is proud to announce an updated technology certification for hard proofing systems to continue to establish leading proofing systems, RIPS, and media as part of the Idealliance Hard-Copy Proofing System Certification. 
Initially established in 2006, over 120 systems have been evaluated and certified. Idealliance, along with support from its Print Properties Committee, has revamped the program to re-establish this program as the leader across proofing for inkjet, digital print, and other non-conventional print. It is critical that when acquiring print technology, users know that their needs, and their customer's needs, to hit globally specific print conditions, such as those across ISO 15339, as well as stand up to the tightest production specifications, as well as real-world usage including handling and durability, to achieve the highest levels of color-fidelity and reproducibility for their clients in their own production according to ISO 12647-7.
The updated Hard Proofing System Certification targets the most commonly used, G7® based, CRPCs, and is also customizable to hit additional print conditions required by global print buyers or adhere to various print conditions based on media and various print applications this color critical work is proofing for. Media is also evaluated as part of print conformance to support global supply chains and provide further assurance to printers, and their customers utilizing proofs on various print media.
Idealliance certified Hard Proofing Systems are also demonstrated to meet G7-based print requirements, specified for G7 Master printers, to provide further re-assurance to leading print service providers, that this technology will support leading near-neutral (G7) based print required by brands, and print buyers around the world from G7 Master Facilities.
"Idealliance system certification is driven by international standards to support the entire print supply chain. This updated proofing system certification program once again continues to push the limit on these standards and specifications to raise the bar for print technology and color reproduction," says Jordan Gorski, Executive Director of Idealliance. "A program like this is long overdue in our current marketplace as media sourcing, and technology innovation has grown proofing production not only on conventional inkjet but also across many digital presses while reestablishing requirements for shifting production environments to meet changing workforce and sourcing needs for print supply chains that now encircle the globe."
This new system certification serves both manufacturers, as well as their customers, print manufacturers, and further downstream, to their print buyers.
How it Works:
Proofing system providers will have their technology certified as Ideallaince Hard-Copy Proofing Systems to verify adherence to the latest print standards and specifications as part of the most up to date proofing technology evaluation across printing and packaging. Systems are comprised of a print engine (proofer), RIP (raster image processor), and media (paper) and are evaluated against the most stringent tolerances across ISO 15339-2 Characterized Reference Print Conditions including GRACoL, SWOP, and other G7 based print conditions. Idealliance's third-party evaluation laboratory, then evaluates also durability of print, and other production requirements for the most robust offering across proofing technology.
What This Means for Proofing Providers & Their Customers:
For print facilities equipped with a Hard Proofing Certified system, they will have the assurance that they will be able to provide not only the highest level of color reproduction, but also meet the needs of the most demanding print buyers and brands who require G7 near-nuetral aligned print, and G7 Master Qualification status from their supply chain members will be able to achieve this level of print quality and status with the proper training, configuration, maintenance, and process control. Having this certified technology, demonstrates that the print engine, with the included RIP/DFE, and print media adhere to these specifications to produce print that spans the array of the most commonly specified CGATS 21/ISO 15339-2 print conditions. Flexibility in the program also ensure that additional color alignment ot other media, or technology-based print conditions, provide the most robust proofing tool available.
Manufacturers, submit your system here to become a Certified Hard Copy Proof System.

For more information about the Idealliance System Certification, please contact Jordan Gorski, Executive Director, Idealliance at (703) 837-1096 | jgorski@idealliance.org.
More Color Management Resources from Idealliance
Become a Certified Color Management & G7 Expert – Attend Idealliance On-demand or Live Instructor Led  Training & Certification