By Chuck Schonert, Idealliance Director of Research and Development, G7 Expert
At Idealliance, we take our mission seriously to educate everyone in the print and packaging supply chain in how to not only cope with change but also embrace and profit from it.
This is a basic overview of how the printing industry eventually recognized the need for uniformity and consistency as they came together to create a standard printing process, SWOP. The creation of SWOP shaped the future for some of the most widely used practices, specifications, and standards across the globe within the printing industry today.
The History of SWOP
As publications popularity grew back in the late '60s and early '70s, printers realized they had a disconnect between their printed material and the trade shops that produced the films and proofs. Without any real guidelines in place, such as basic densities and dot gain targets, neither side was on the same page. Concerned experts formally gathered in 1974 to create specifications that trade shops and printers could both adhere to—a common target. This meeting produced the first widely accepted printing specification, as well as the acronym SWOP, which stands for Specification for Web Offset Publications.
In 2005, SWOP merged with Idealliance, which in turn provided the resources to expand education, training, and modernization. A year later, the traditional method of measuring density and dot gain with a densitometer gave way to a more precise method of accuracy—spectrophotometry—utilizing LAB and Delta E tolerances derived from spectral data, to achieve gray balance—the basis of what we refer to today as G7. This allows printers to achieve gray balance from printing paper of varying white points, creating a near neutral appearance.
The History of GRACoL
Another significant specification was focused primarily on sheet fed printers: General Requirements and Applications for Commercial Offset Lithography, also known by its acronym GRACoL. The committee was initially formed in 1996 by Idealliance and is responsible for many of the best practices we use today.
Noting the success of SWOP, this group wanted to create guidelines and specifications for sheetfed printers. Datasets were tested, refined, which eventually evolved into GRACoL 2006. This characterization data was based on G7 methodology and ISO 12647-2 standards. The basis of this need was that sheet fed printing normally printed on a higher quality grade of paper that produced a wider color gamut. The acceptance and widespread use of GRACoL 2006 created a common target for and greater consistency among sheet-fed printers.
GRACoL 2006 was probably one of the most widely used ICC profiles in the world until SWOP advanced to a new version that incorporated the new M1 Measurement Mode. This change was due to OBAs (optical brightening agents) being used in papers to make them whiter. Papers with OBAs have a bluer white point and give a much whiter visual appearance. GRACOL 2013 was introduced to accommodate this trend.
Introduction to ISO/PAS 15339 and CGATS21
Along with OBAs came a need for a new measuring mode for spectrophotometers, M1. This mode accommodated the OBAs UV absorption and visible blue light reflection in the paper. M1 is based on D50 (D50 is a theoretical light source that approximates "warm daylight" and follows the CIE standard) and a static UV component.
Over time, with the use of different types of output devices, conditions, and substrates, there grew a greater need for uniformity and near neutral appearance. ISO 15339 addressed this need. Made up of seven CRPCs (Characterized Referenced Printing Conditions) and coupled with G7, a common "near neutral" appearance can be achieved across multiple print conditions and technologies. ISO/PAS 15339, also known as CGATS21, was approved for use in 2015 by the International Standards Organization (ISO).
An example would be comparing a printed piece on a sheet fed press, using high quality paper, and a web press printing the same image on newsprint stock. When utilizing the proper CRPC with G7, side-by-side they will have a common appearance. The printing industry has come a long way since the first meeting 1975, putting forth guidelines for better conformity and communication. ISO 15339 and G7 are built on that global vision.
Opportunities to Go Deeper with G7
G7 Expert Virtual Open House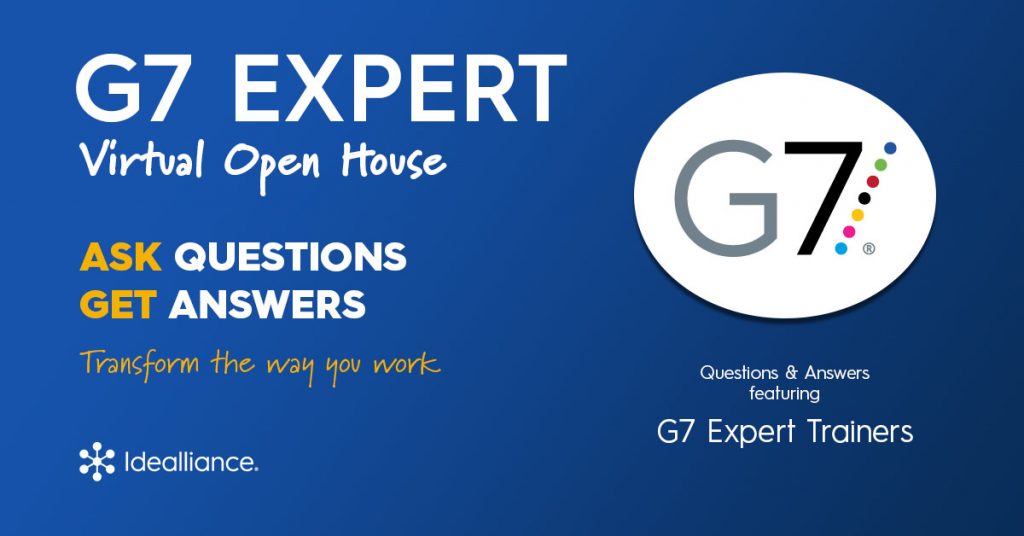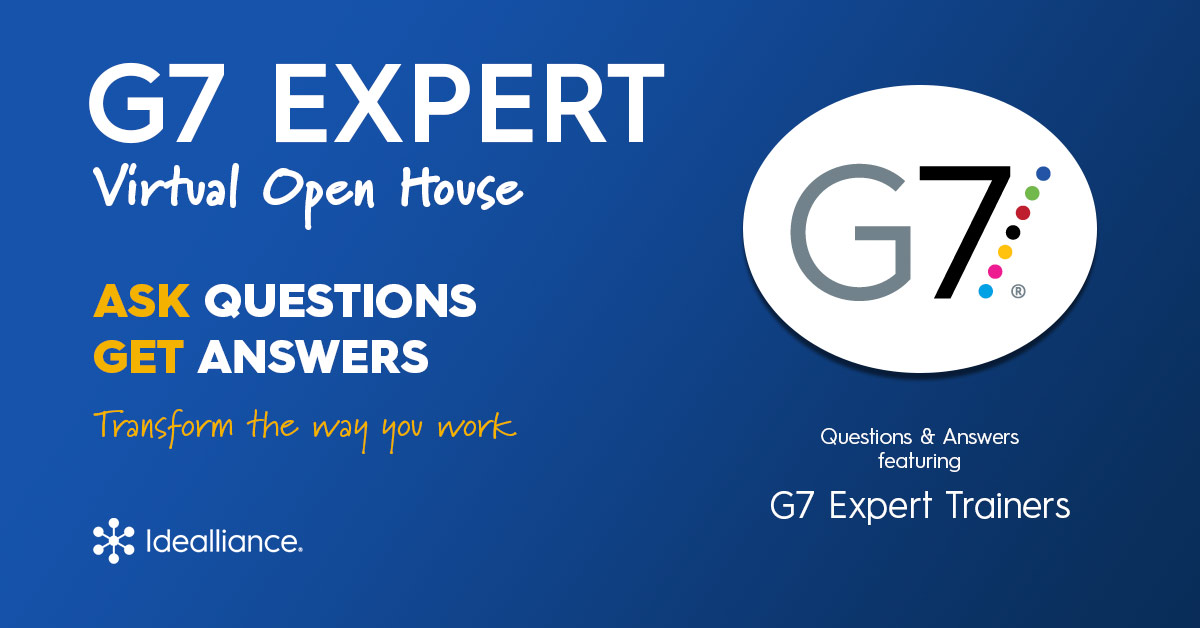 Find out more at an upcoming G7 Expert Virtual Open House.
Attend this free virtual live event to get your questions about G7 answered by a G7 Expert who is in the field every day. Learn more about the various Idealliance Certified G7 Expert Trainers who teach the G7 Expert Certification Course, and understand the next steps to take in order for you to become a Certified G7 Expert.
Informative and interesting whether you are just beginning or already on your journey with G7 based print and packaging production.
G7 Expert Training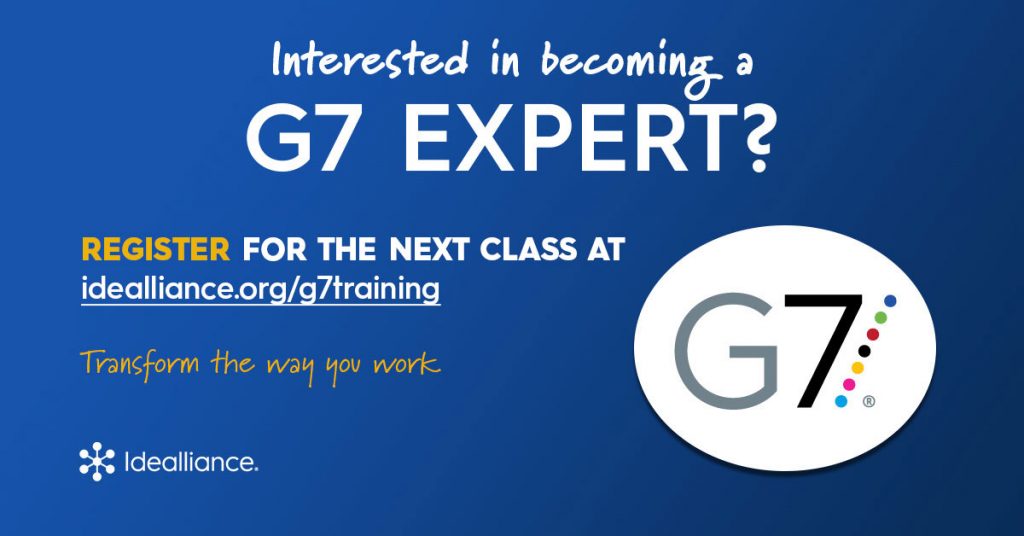 Then attend Idealliance's online live G7 Expert Training. This multi-day training teaches professionals how to analyze color and print-related issues and take corrective action to bring systems and processes in control to a set method, standard or specification with repeatable, predictable results.
Idealliance G7 Expert trainers focus on G7 based print and packaging applications, and G7 integration, maintenance, and process control across all print and proofing applications to be able to implement directly into established print workflows.
G7 Expert trainings are led in several different languages and across time zones and open to all global registrants. See all upcoming trainings and register here »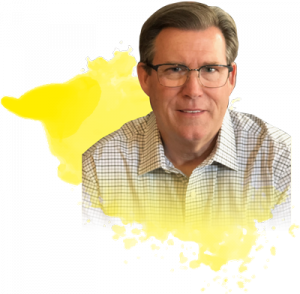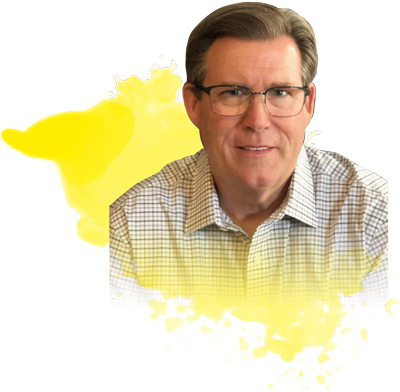 About the Author:
Chuck Schonert is the Director of Research and Development for Idealliance. He creates educational content that serves the global marketplace and guides the development of best practices and standards domestically and globally. He is a G7 Expert and an active member of the Idealliance Print Properties Committee.
INTERESTED IN BECOMING A G7 EXPERT?

Set up a 15-minute call with Mike Grady, Vice President of Global Partnerships, to explore whether G7 is right for your company.
mgrady@idealliance.org | 703.837.1068