Update from the Executive Director—September 2021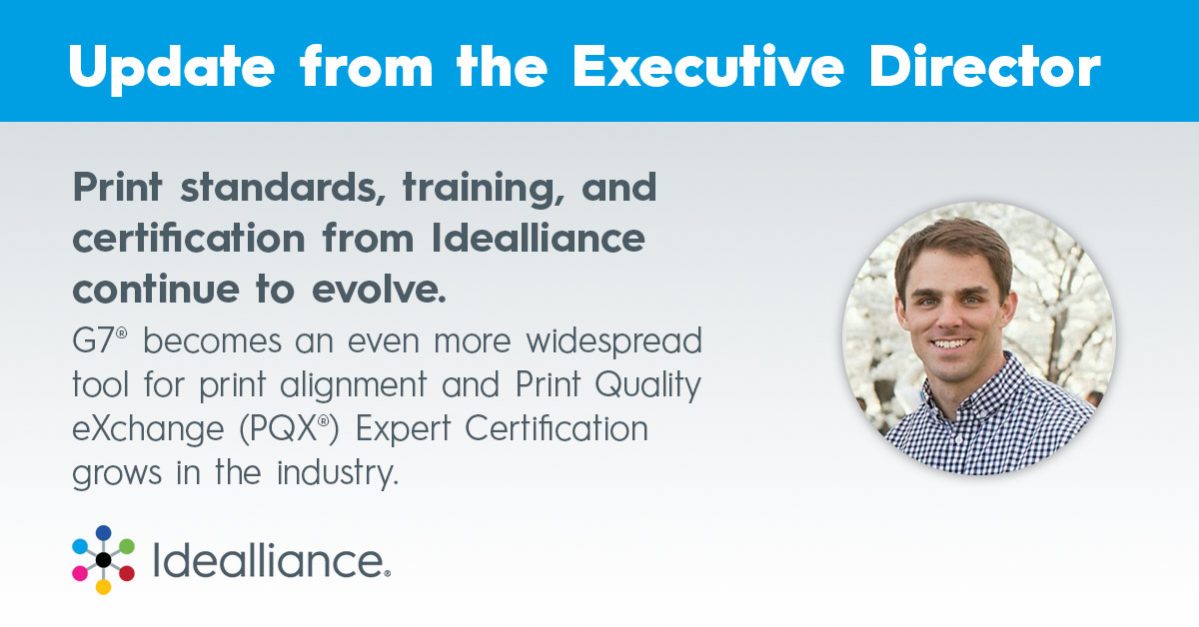 Hello Idealliance members,
It is exciting to touch base with you again and share more news from Idealliance. This past month has been an exciting time as print standards, training, and certification from Idealliance continue to evolve.
We have launched the first PQX® online training program and already certified several PQX Experts to continue to lead the charge in aligning our industry and supplying all members with an open, clear way to communicate print performance. As PQX allows an open communication stream for print reporting, the entire supply chain will be plugged into a centralized methodology, rather than being restricted to a proprietary focused data stream and we're excited to support that growth and increase in communication amongst all the users in our close-knit industry.
Additionally, over the past month, we have seen G7 become an even more widespread tool for print alignment. As some of you may know, G7 was an integral part of the latest Pantone Bridge swatch book launched in 2019, and now in 2021 is being integrated further into the Pantone CMYK color guide. This additional integration of G7 allows designers, prepress, print manufacturers, print buyers and brands to have a standardized reference tool for CMYK output for their work on coated and uncoated media, giving them greater confidence that their color will match from proof to print.
Idealliance has also qualified the first Direct to Garment (DTG) inkjet print provider as a G7 Master Facility. As DTG print continues to grow and expand in capabilities, it is exciting to see print providers are demanding color critical performance with G7. This provides critical visual consistency across all print platforms, so regardless of how a product is printed, brands and print buyers will see the same visual output across their DTG textile products, packaging, print media, and everywhere their brand is represented. This unique distinction in our G7 Master certification directory will also allow print buyers to find the best of the best to ensure their textile products are delivered with the visual consistency of G7, as well as their other printed products.
We are also expanding our G7 training this month, by providing additional breakout sessions as part of the upcoming September G7 Expert training. These breakouts will focus on three areas:
Substrate relative strategies for aligned performance across various substrates and white points
Dye-sublimation specific G7 strategies
G7 based Expanded Color Gamut (ECG) alignment
These are topics from the field we often provide additional support on as part of our training, and with the Print Properties Committee (PPC) have developed unique tools to support further.
Stay tuned for much more regarding G7 training. As we start into the fall, and through the end of 2021, we will have more to share on G7 training updates.
Stay well,
Jordan Gorski
Executive Director
Idealliance
PS. Idealliance Members, stay tuned for new members-only opportunities and announcements.
Footnote:
PQX® is a registered trademark of Idealliance.