Top Print Buyers Requiring G7 Certification Named in New Special Report: 'Top 100 Print Buyers Forecasted for 2023' from Printing Impressions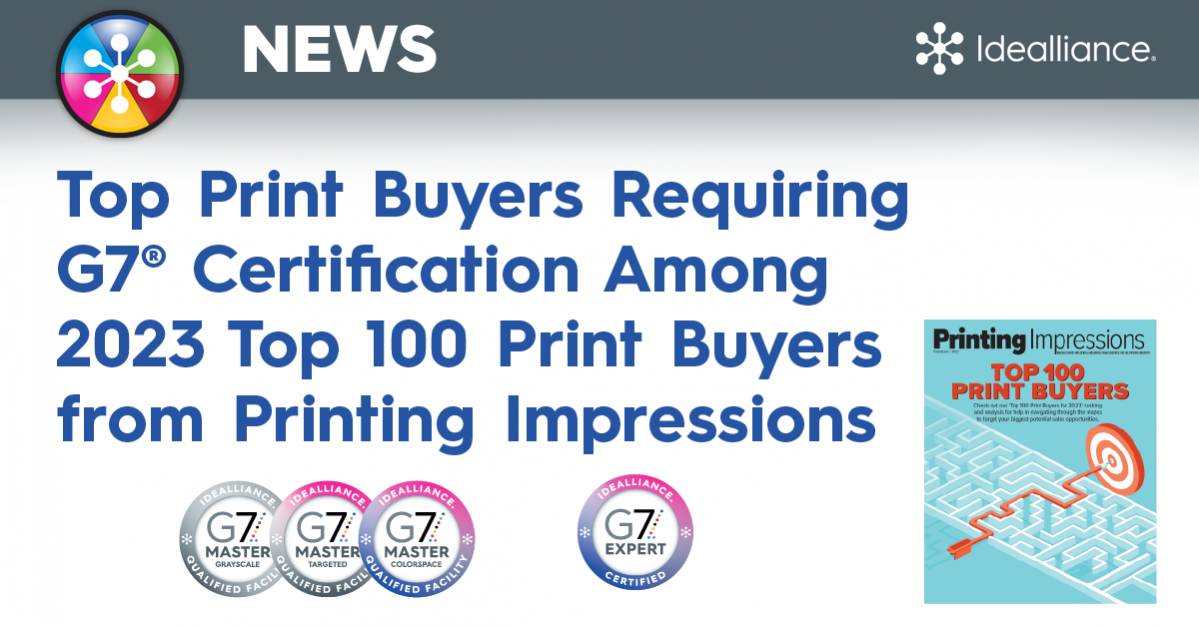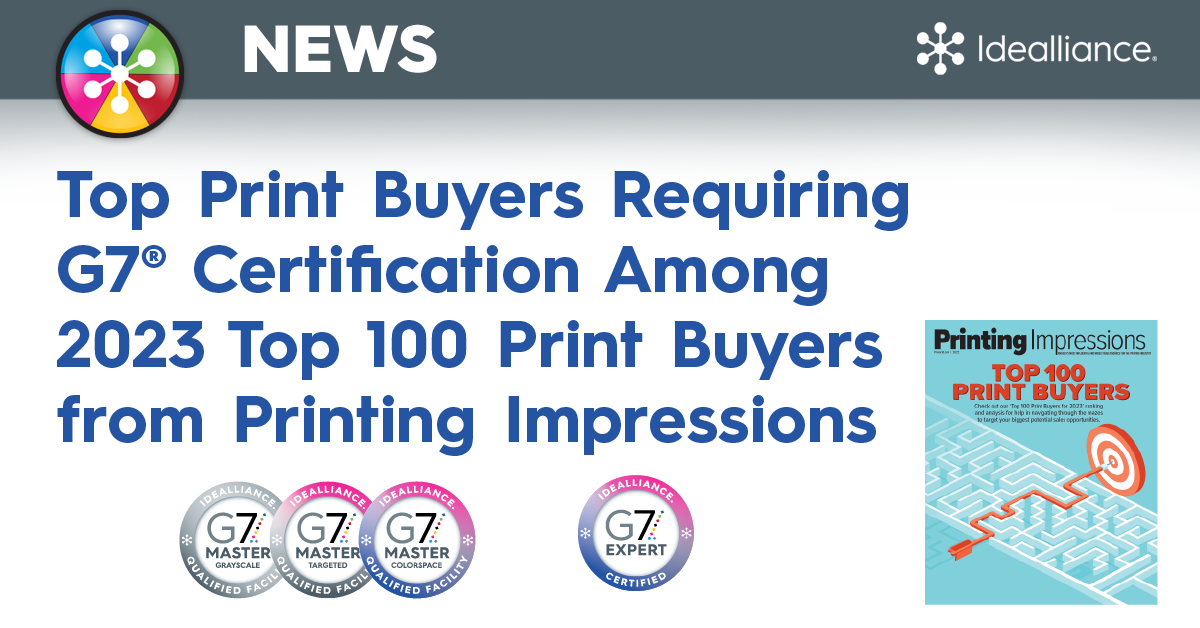 The 2023 Printing Impressions Top 100 Print Buyers is now available!
Revealing the key verticals for print manufacturers, this year's list also reveals the major 25 print-buying entities that alone will account for nearly 37% of the demand and 13% of all printing buys.
Among these print buyers are many who require G7® Certification from their print buyers as G7 Master Facility Qualification or have G7 Experts on staff to maintain their print & packaging supply chain for optimal color regardless of print provider, technology, or when the work is produced. 
Over 50% of these top print buyers across consumer goods companies, food and beverage, retail, and more either hold certification as G7 Experts among their staff or specify G7 Master Qualification from their print manufacturers to ensure color consistency, brand alignment, and global speed to market. More information on the benefits of G7 for brands and print buyers is available here. 
Their print service providers, who also leverage G7 certification among their production staff, and across their print technology, also benefit from the G7 methodology to maximize profitability and reduce waste, win more jobs, and maintain these key clients. More information on the benefits of G7 for print providers is available here. 
The Printing Impressions Top 100 Print Buyers also provides valuable insights including:
The top 100 entities that should be on every printer's radar for new sales opportunities
Access to projected annual sales volume and print spend for 2023, headquarters location and primary market sector served for each company in the rankings
Expert analysis in an accompanying commentary on some of the highest ranked entities appearing on the list, including their print procurement structures and the types of printing they are expected to acquire
Download this exclusive list and analysis, compiled by veteran printing industry forecaster Vincent Mallardi, to help develop your future sales pipeline and business development initiatives.
Leverage G7® In Your Print Production & Supply Chain
Brands & Global Print Buyers
Find a G7 Master Qualified Facility Here in the Official Idealliance Global Certification Directory
Become a G7 Master Qualified Facility to Serve These & Other Leading Print Buyers
Become a Certified G7 Expert to Implement & Manage Optimal Color & Process Control Across Print
Training & certification from Idealliance with our team of Certified G7 Expert Trainers is available live online, or live in-person. Become a leading print & color expert with G7 Training & Certification.