Screen Achieves Idealliance Digital Press System Certification for the Truepress Jet520HD+ with Screen EQUIOS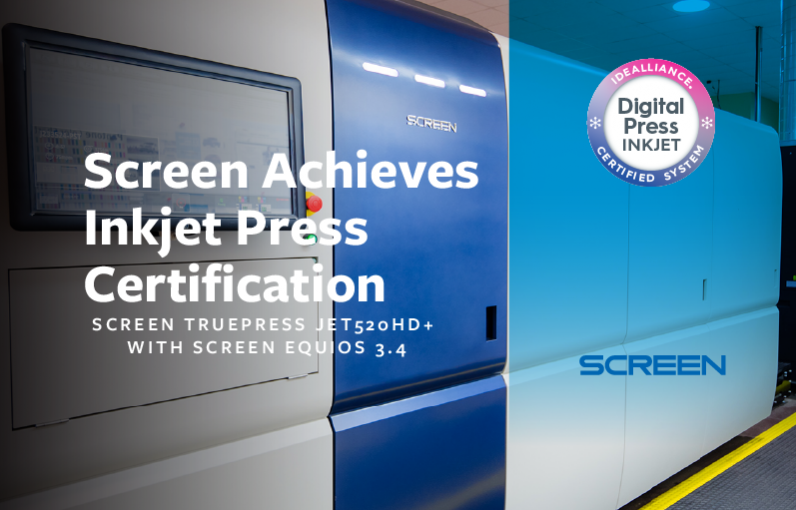 Idealliance is proud to announce that Screen has achieved the Digital Press-Inkjet certification for its True Press Jet250HD+ with EQUIOS version 3.4. Through Idealliance's independent verification program of industry printing engines and digital front ends (DFEs), Idealliance has validated both leading print conformance as part of the Digital Press – Inkjet System Certification program for production capabilities focused on throughput, print consistency, register, durability, and other print variables critical to leading industry print providers. 
The True Press Jet520HD+ achieved the Idealliance Digital Press Certification, signifying that colorimetric accuracy, uniformity, repeatability, durability, and registration have been achieved. Evaluation includes uniformity, spanning uniformity within a press sheet (m-score), uniformity within a press run and over an extended repeatability time frame, and down to minimum font size, color registry, gloss, and abrasion testing to ensure leading production from all digital presses.
"As a longtime leader in inkjet print technology, Idealliance is proud to certify Screen according to the leading industry standards and specifications as part of the Digital Press System Certification program. This status demonstrates to both print service providers, who strive to leverage the latest cutting-edge print technology, as well as the print buyers that this inkjet press conforms and surpasses expectations to produce leading printed products and meet the demand of our customers," said Jordan Gorski, executive director, Idealliance. 
The ScreenTruepress Jet520HD+ with Screen EQUIOS. Image courtesy of Screen.
He continues, "This certification put the True Press Jet250HD+ with EQUIS press print technology in the leading class of inkjet solutions in today's industry. The growing capabilities and adoption of production inkjet is nothing to be ignored, and this press will lead that charge with the successful completion of this exhaustive evaluation focusing on digital press production output and consistency."
View this certification at www.idealliance.org to evaluate its capabilities along with the Application Data Sheet provided by Screen and evaluated as part of System Certification to provide users and potential users thorough information of the system components and printing produce. 
For more information on Idealliance System Certification programs, visit www.idealliance.org/systems. A full list of certified systems, independently verified by Idealliance as part of these programs, are also available to support leading print manufacturers and print buyers looking for the most capable print systems. Become a member of Idealliance today and transform the way you work — forever.