Idealliance TC1617 Designated as IT8.7/5 Characterization Target & Critical Tool for Complete Color Alignment for Global Print Industry
January 4, 2023

Category:

Updates

,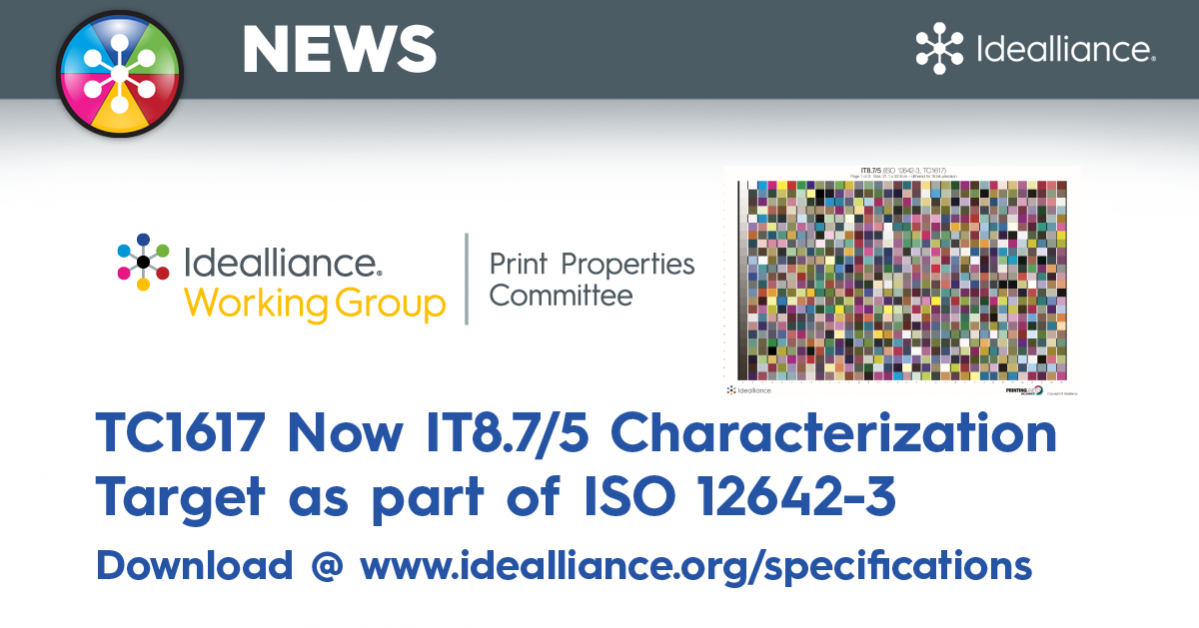 Idealliance and the Print Properties Committee announce the update to globally utilized TC1617 Characterization Chart.
The TC1617 developed by the Idealliance Print Properties Committee has been designated as the IT8.7/5 print characterization target. Developed over several years, as a successor to the IT8.7/4, the optimized IT8.7/5 includes critical K and CMY patches for gray balance reference in the P2P51 (columns 4 & 5 of the P2P51), while removing 29 duplicate patches to maintain the exact patch count and chart size utilized across many global print technologies and solutions. Since 2019, global adoption of the TC1617 has been widespread with these and other benefits for print workflows warranting the adoption by ANSI, CGATS, and ISO as the IT8.7/5 as part of ISO 12642-3.
IT8 is a set of American National Standards Institute (ANSI) standards for color communications and control specifications governed by the Committee for Graphics Arts Technologies Standards (CGATS). Several versions of the widely utilized IT8 target have been referenced across global standards since 2002, with the latest IT8.7/5 serving as continued innovation and optimization for this critical print characterization target.
An important side benefit of the IT8.7/5 compared to the IT8.7/4 is that it improves the characterization accuracy of a printing system, thanks to the addition of 29 new gray patches. Under certain circumstances, this can produce more accurate ICC profiles and less chance of unwanted color artifacts in neutral gray image areas, but the difference may be difficult to detect except on extremely stable printing systems.
Three versions of the IT8.7/5 are available from Idealliance; two for the i1iSis are designed for either vertical or horizontal gray ramp alignment and are marked accordingly with 'V' or 'H', and one for the i1iO.  These target images can be measured on the Konica Minolta FD9, X-Rite i1iSis or i1iSis XL (1 or 2), and the X-Rite i1iO (1, 2, or 3). Download Here.
On printing systems subject to uneven inking or directional ink output, align the IT8.7/5 so the gray ramps point in the direction of paper travel (e.g. around a press cylinder) or parallel to ink variation lines. This minimizes the chance of color anomalies within each gray ramp and can yield smoother curves and optimized gray balance and tonality as part of G7® based alignment.
The IT8.7/4 has been replaced by the IT8.7/5 / TC1617x in all press forms and G7 Master Qualification submission kits on the Idealliance website. While the IT8.7/5 eliminates the need for a separate P2P51 target for G7 Master Colorspace submissions, the P2P51 is still recommended for G7 Grayscale or G7 Targeted submissions for press sheet optimization and is still required by certain G7 calibration or verification software.
Idealliance would like to thank its members and key contributors as part of this project including (alphabetically) – Andy Bullock, Ray Cheydleur, Ron Ellis, Don Hutcheson, Bill Pope, X-Rite, and the entire Print Properties Committee. Become a member of PRINTING United Alliance and the Print Properties Committee at www.idealliance.org.  
Learn how to integrate the IT8.7/5 and other industry-leading standards and specifications supported by Idealliance as part of training & certification for optimal print & prepress output, and workflow alignment, for critical efficiency and profitability in print production. Details Here.
More Color Management Resources from Idealliance
On Demand Color Management Professional® Training & Certification
Live, Instructor Led G7 Training & Certification