Idealliance Taiwan Supports the Adoption of Leading International Print Alignment and Standardization with G7 Expert Certification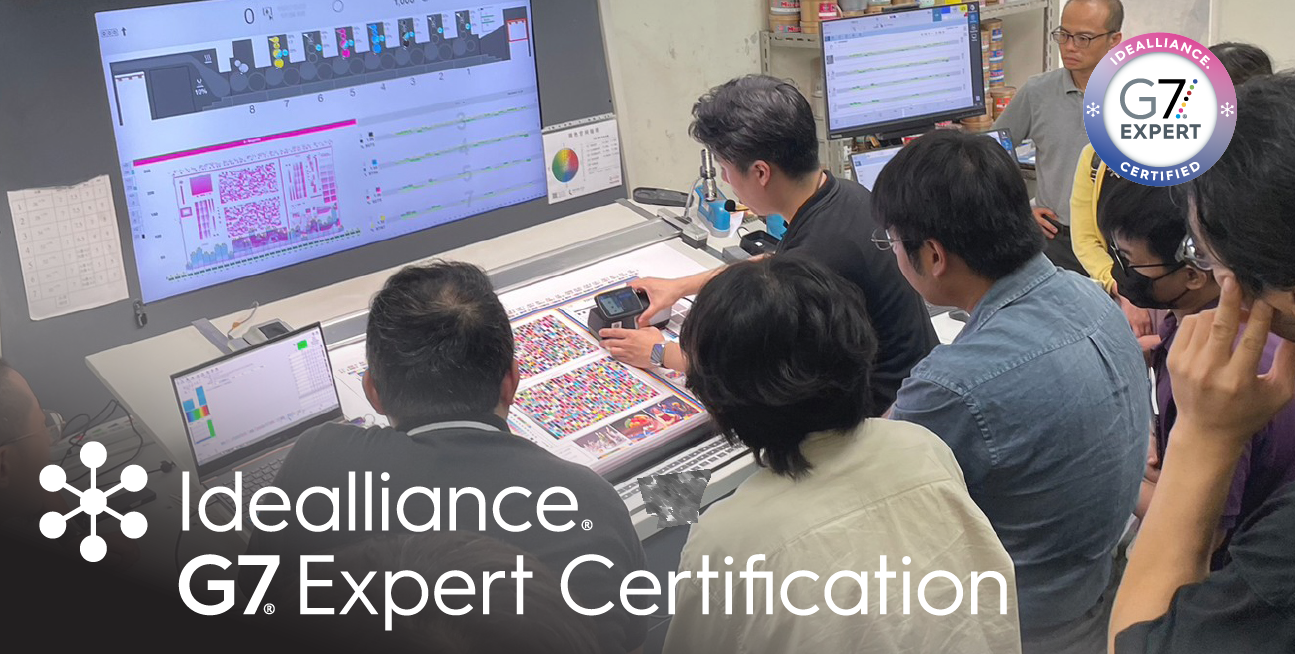 Earlier this month, Idealliance Taiwan held G7® Expert certification education and training in Taichung, Tawain, a three-day G7 printing calibration and international certification standard course. Mr. Fred Hsu, G7 Expert Trainer, taught basic printing color theory, G7 calibration standards, and color management applications. Lithographic printing hands-on practice, in collaboration with T-Lab Dongxu Color Research Institute, jointly provided students to Dazhuang Color Paper Industry use, a sheet-fed lithographic press with ISO 2846 standard lithographic printing ink, to conduct live standardized G7 printing calibration implementation and process control to achieve the highest-level G7 Colorspace printing color standard.
A total of 11 students became G7 Expert certified during this training. Participants included individuals from Jing Xiangxuan, Printing Heshun Color Printing and Platemaking, Yangcai Printing, Tongyi Qiuyu Innovation Color Separation, Xinxiang Electronic Engraving, Max Printing Integrated, Yufeng Art Printing, Dazhuang Color, and Chenghan Printing (Card House), growing the ranks of G7 Expert certifications to 72 certified individuals in Taiwan. 
In order to help cultivate the new generation of professionals in color management and international printing standards, the Printing and Communication Talents Culture and Education Foundation supported two students from the Department of Graphic Communication at National Taiwan University of Arts, and the Department of Information Communication at National Culture University to participate in this training course.
During the G7 Expert education and training period, a G7 practical course was held simultaneously to provide active G7-certified Experts with familiarity with various printing system applications and G7 calibration processes hosted by Xingao Printing Factory.
The co-organizer of this training course, Dazhuang Color Paper, is in Shengang Township, Changhua County. Dazhuang became a BrandQ Certified Supply Chain Facility in 2021, including printing process, pre-press color management, proofing and printing correction, spot color inspection, and G7 equipment calibration. Supported by three G7 Experts on staff, Dazhuang Color Paper closely manages its leading printing and quality control departments, respectively. The production process in the factory fully implements color management and printing standardization. Idealliance Taiwan is particularly grateful to Dazhuang Color Paper for its full support of this G7 training course, providing training venues, equipment, and the assistance of in-factory professionals so that students can gain practical experience in G7 lithographic printing correction.
Live G7 training includes hands-on press production, setup, and process control management for print production proficiency of the leading G7 methodology. Image courtesy of Idealliance Taiwan. 
Idealliance Taiwan and the Printing Communication Xingcai Cultural and Educational Foundation will continue to hold G7 Expert education and certification, color management, and international printing standardization courses every year. "We look forward to your support and participation to provide professional assistance to Taiwan's printing industry and accelerate integration with international markets." Says Fred Hsu, G7 Expert Trainer. 
Practical G7 training, including live press sheet analysis. Image courtesy of Idealliance Taiwan. 
If you are interested in learning about the G7 international printing standards, visit www.idealliance.org/g7 or the Idealliance Taiwan page for local information & news!