Idealliance Releases Updated Expanded Color Gamut (ECG) Characterization Target and Kit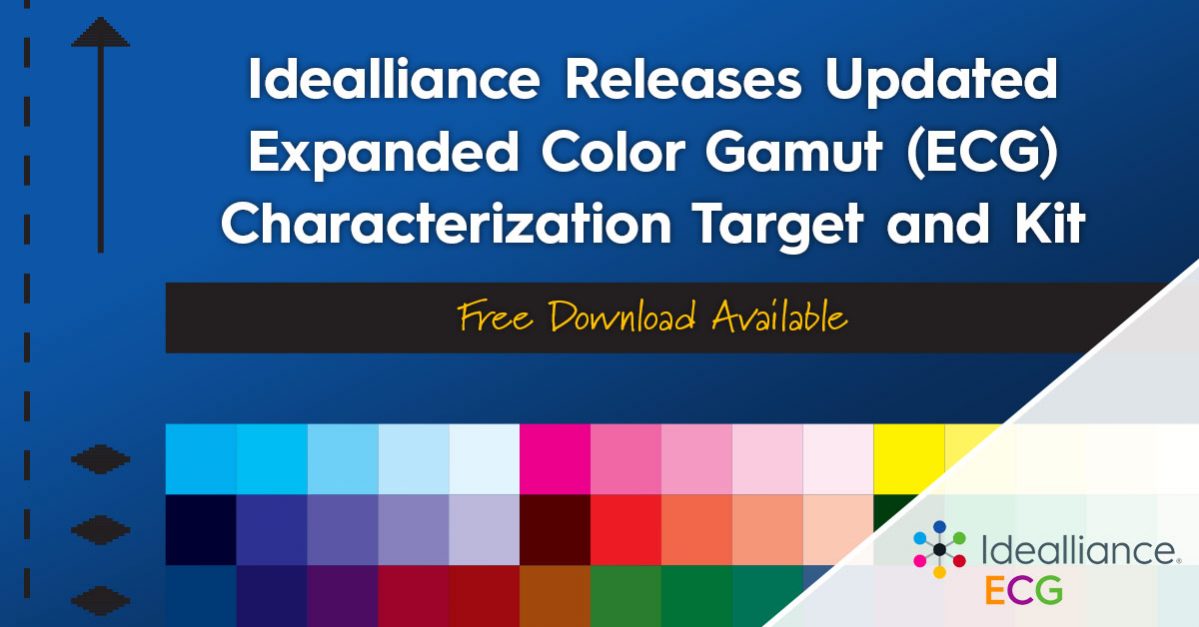 Intended to better help users calibrate to 7 Color process
Idealliance, and its Print Properties Committee (PPC) members, are releasing an updated version of the Expanded Color Gamut (ECG) Characterization Target and Kit. The new version contains additional charts, documents, and information to better help users calibrate to 7 Color process. The Idealliance ECG project goal is to make 7 color process printing as predictable and normal as current CMYK printing specifications such as GRACoL® and SWOP®.
The new kit includes:
Reference files allowing use of a single page, as well as combinations of the multiple pages included in the original ECG Characterization chart.
SCTV ramps for use in calibration of the orange, green and violet channels.
Test charts elements, and a complete test chart with Adobe InDesign source files for use or modification when printing a calibration job.
The updated Idealliance ECG Calibration Project Guidelines 2021 v10 document, outlining how to perform a calibration using the above elements.
The Idealliance Expanded Color Gamut (ECG) Characterization Target and Kit can be downloaded for free here »
About Expanded Gamut Printing
Most current print targets are based on litho print standards, the most famous being ISO 12647-2 which is the basis for GRACoL and other international print standards. These are widely used, even in non-lithographic printing such as digital, wide format and flexo.
However, printing technology has changed, and while these standards still represent good printing, many new print technologies can print with much more color. Using standard print targets on these devices means users are printing with much less color than the device can achieve. So, while print conditions based on ISO 12647-2 such as GRACoL continue to benefit print manufacturers and are widely adopted, expanded gamut printing allows the new machines to utilize the full array of their capabilities.
Multiple Ways to Achieve Expanded Gamut Print
The most exciting projects being developed by the Idealliance Print Properties Committee involve Expanded Color Gamut (ECG). These include the Idealliance ECG project, as well as PrintWide®. The ECG project is about standardizing expanded gamut printing, including characterization charts, methods, and a target print condition. The PrintWide project is a colorspace for use with wide gamut digital print, as well as a wide gamut CMYK translation space. Both projects share something in common – they are both targeting color spaces that are larger than standard CMYK print conditions.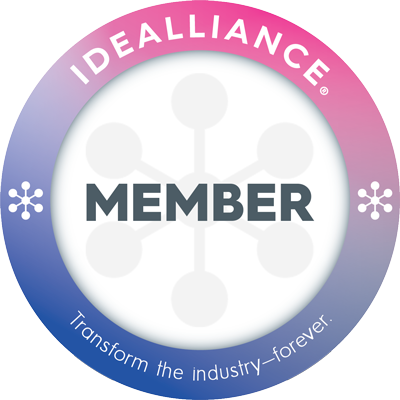 Did you know?
Only Idealliance members can join the Print Properties Committee and contribute to industry-changing initiatives like ECG from the ground-up. Learn more and join »
Depending on whether you are printing with traditional methods, such as litho or flexo, or using digital print there are different ways to achieve expanded gamut. For traditional print the Idealliance Print Properties Expanded Gamut Project offers a method and tools for achieving expanded gamut. If you are using digital print, such as wide format inkjet, electrophotography, or other methods, PrintWide is an easy way for you to print with an expanded gamut.
Benefits of Printing with Expanded Gamut
If you were asking a designer if they would like more color or less, most will pick the more vibrant and colorful option. Brands are familiar with studies showing that "more colorful" =  "more attention" for their products. Photographers know more color equals more vivid and realistic reproduction. Printers are aware that a larger gamut eliminates the need for separate spot color inks. The technology to print "more color" with expanded gamut is now more accessible than it has ever been in the past.
For traditional print such as litho and flexo, one benefit is being able to reproduce spot colors with less wash-ups. While ECG requires more units on the press, it can be a much more efficient and cost-effective workflow for packaging printing that would normally use spot colors.
The Idealliance ECG project is developing methods and practices for attaining expanded gamut print using these traditional technologies, as well as standardized print conditions. These methods and practices will help printers use expanded gamut with their traditional equipment. The standardized print condition will give designers and brands a starting point for designing using the more colorful print space offered by expanded gamut.
For wide format, digital, display printing and industrial print, expanded gamut profiles such as PrintWide provide an easier means of producing more color with no extra effort. In some parts of the display market, printers have been simply turn off color management to get more vibrant color. With PrintWide, users can just load the profile and take advantage of all the color their machine has to offer. PrintWide is a profile that has a larger gamut than any known printer, so that the profile does not clip the gamut of the printer.
Relationship Between G7® and Expanded Gamut
The Idealliance ECG projects all use G7 tonality and gray balance. This means that while you are getting much more color you are still maintaining the photographic appearance that is common to standardized print conditions such as GRACoL. For example, the CMYK channels of the traditional ECG calibrations are based on G7. (For more information on how to perform an ECG calibration, download the ECG Kit and check out the ECG Calibration Guide.) The PrintWide profile, commonly used on newer digital print technologies also is based on G7 – so while it has a huge color gamut, it is calibrated using G7 gray balance and tonality.
Both of these ECG projects are providing large gamut print, with the shared neutral appearance that has made G7 so popular across the world of print.
Learn More About ECG
The Idealliance Global ECG (Expanded Color Gamut) is designed to make 7 color process printing as predictable and normal as current CMYK printing specifications such as GRACoL and SWOP. The ECG characterization chart is for use in characterizing and calibrating multicolor print processes. The ECG project is to establish global characterization charts and processes for multicolor print processes. Download the Idealliance ECG Characterization Test Target Project Kit »
To learn more about ECG, go to idealliance.org/ecg where you can download the current ECG kit.
To download the PrintWide profile, go to GRACoL.org.
ABOUT IDEALLIANCE
Idealliance is a transformational industry association for print and packaging, working with brand owners, content and media creators, agencies, designers, material suppliers, OEMs, technology developers, and service providers around the world. We serve the graphic communication industry by creating superior industry training and certification programs, developing professional standards and specifications, and redefining workflows for the entire print and packaging supply chain.
Become a member of Idealliance and transform the way you work—forever.