Idealliance Introduces the First Online Print Quality eXchange (PQX®) Training & Certification Course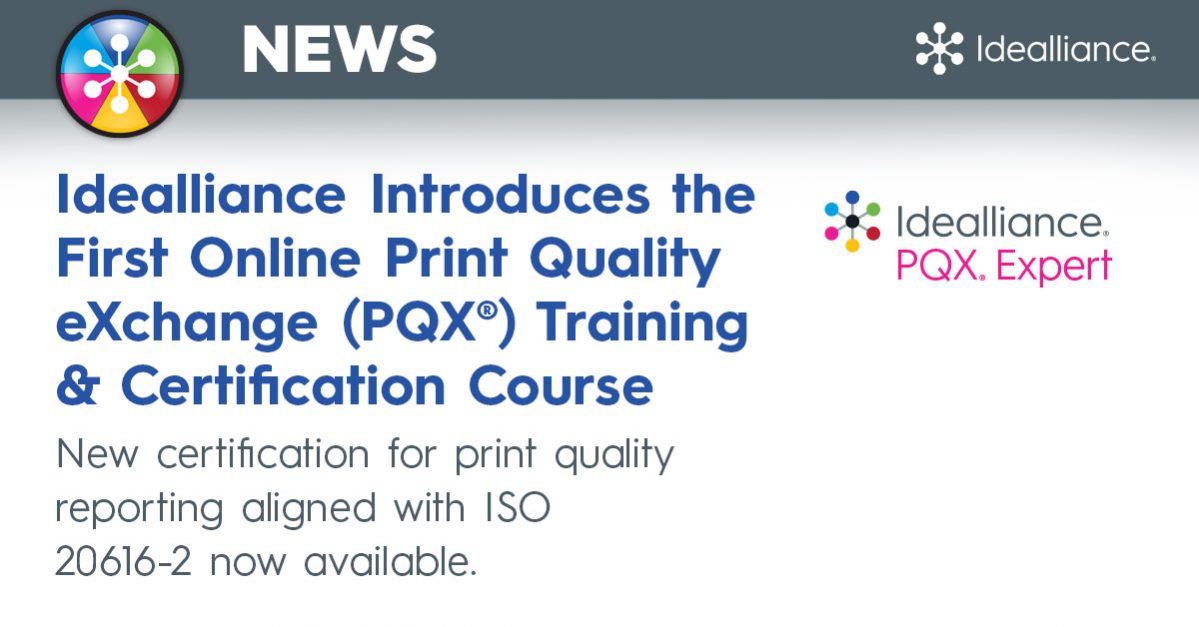 New certification for print quality reporting aligned with ISO 20616-2 now available.
Alexandria, VA (August 25, 2021) – Idealliance® is proud to introduce the new PQX® (Print Quality eXchange) Expert online training and professional development course for print professionals, customers, and solution providers teams to lead efficient print quality-based reporting and communication amongst the print supply chain. Idealliance—the leading global print and graphic communications standards association, and developer of the Print Quality eXchange format—with its members through the Print Properties Council (PPC), launched this new online training as the first training program and certification aligned to the new ISO 20616-2 methodology.
The new PQX Expert course covers core methodology and requirements established by ISO 20616:2-2020 and explains how PQX can be integrated and maintained to serve color and print quality reporting. "The PQX Expert course is highly interactive and also includes access to PQX software for first-hand implementation and reporting experience according to the new PQX standard," explains Idealliance Executive Director Jordan Gorski. "The Instructor, Dianne Kennedy, who was a key developer of PQX and PRX shows how to apply each concept step-by-step."
Not only is this the first PQX aligned training program, but it also offers direct free access to one of the industry's first PQX solutions and other supporting materials to allow participants to rapidly improve their skills in executing print quality reporting, while also offering globally recognized certification as PQX Experts, by Idealliance. Idealliance members receive special pricing for this newest online training course, along with all other Idealliance training and certification programs.
All PQX Expert lessons feature Idealliance's leading eLearning methodology with interactive instruction, in-lesson quizzes to reinforce learning, table of contents for easy search and future reference, bookmarks to return automatically to where you left off, and 24/7/365 access. "This course serves the industry with further industry standards support, and Idealliance is proud to have this program available easily to all global print industry professionals through our new online learning platform. It has never been easier to take an Idealliance training course, no matter where you are," says Gorski.
The PQX Expert course, as with all Idealliance eLearning programs, include a final online Certification Exam, which, when passed with a score of 90% or more, awards the learner recognition as a PQX Expert and listing in the globally referenced Idealliance Certification Directory, available here.
"Idealliance certifications are the most sought-after professional designations in the print, packaging, and graphic communications industry," says Gorski. "The PQX Experts who have already achieved certification, along with the others who will continue to achieve this elite designation, are recognized as proven leaders in print quality collection, reporting, and communication according to ISO 20616:2, to continue to support the Idealliance mission to further align and elevate our industry and support their organization and customers."
Learn More:
To learn more about PQX, and other Idealliance training such as G7®, BrandQ®, Color Management Professional®, and others, go to www.idealliance.org/professional, or contact Jordan Gorski at jgorski@idealliance.org or +1 (703) 837-1096.
ABOUT IDEALLIANCE
Idealliance is a transformational industry association for print and packaging, working with brand owners, content and media creators, agencies, designers, material suppliers, OEMs, technology developers, and service providers around the world. We serve the graphic communication industry by creating superior industry training and certification programs, developing professional standards and specifications, and redefining workflows for the entire print and packaging supply chain.
Become a member of Idealliance and transform the way you work—forever.