PQX® - Print Quality eXchange
Brands and other print buyers wish to track the print quality of their suppliers by the supplier and by the location. Today this is difficult and expensive because printers use different measurement tools and send print quality reports to the Brand in a wide variety of formats that cannot be directly utilized or imported into database tracking systems. By establishing a standard print quality exchange specification for printers to report print quality to the print buyer, tools or plug-ins can be developed to streamline print quality reporting and analysis.
Transition into ISO
The work to develop PQX®, the Print Quality eXchange, began as an initiative of the Idealliance Print Properties and Colorimetric Council (PPC) in June of 2015. A subcommittee of PPC began an aggressive development effort using an agile software development methodology, to develop a standard XML message. As this work moved forward, it became clear that the requirement for such a standard message reached far beyond Idealliance membership. As a result, Idealliance began the effort to move PQX into the global ISO standards development process.
Today, what began as the Idealliance PQX Specification now has two parts: ISO 20616-1 and ISO 20616-2.
ISO 20616-1 Print Requirements eXchange (PRX)
Used to communicate print requirements from print buyer to the printer
ISO 20616-2 Print Quality eXchange (PQX)
Used to communicate various attributes of print quality from the printer to the print buyer for assessment, reporting and scoring.
PQX Expert Training & Certification Course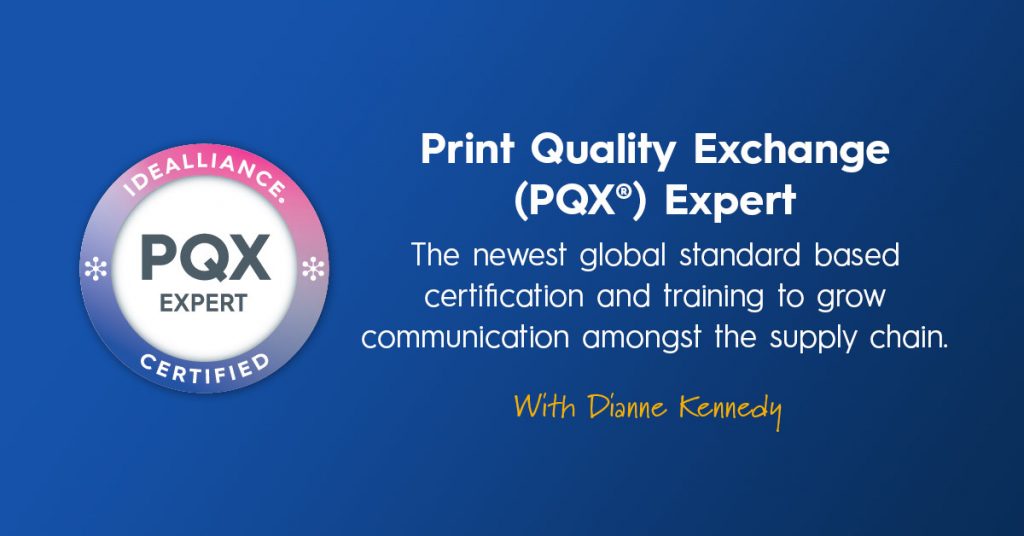 Developed by industry experts, this training will help you effectively implement and manage PQX based reporting and communication for complete supply chain and production alignment (according to ISO 20616-2:2020).