FUJIFILM Business Innovation Corp. Achieves Idealliance Digital Press System Certification for Five Systems Across Revoria Press EC1100, SC170, & SC180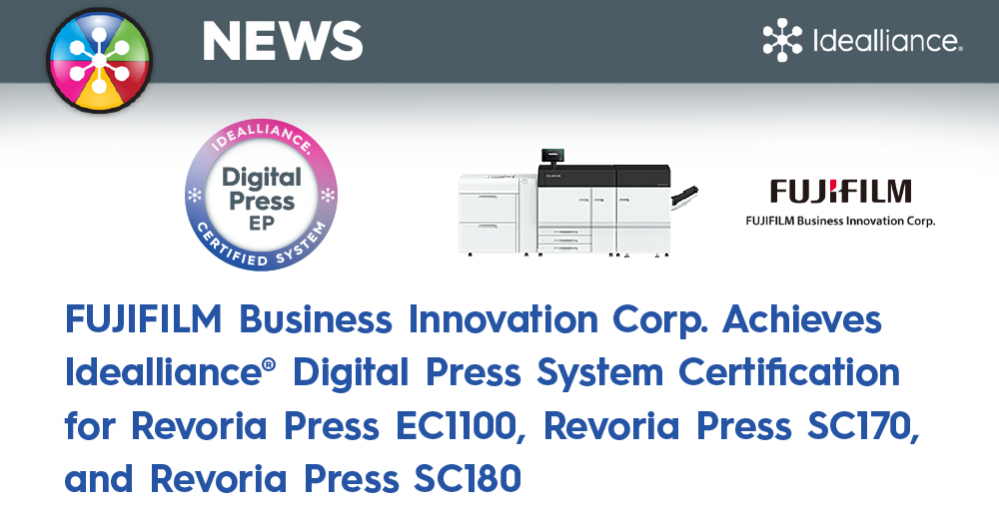 Idealliance announces certification for FUJIFILM Business Innovation's Revoria Press EC1100, Revoria Press SC170, and Revoria Press SC180
Idealliance announces it has certified five unique FUJIFILM Business Innovation's systems including:
Revoria Press EC1100 with Revoria Flow EC11
Revria Press SC170 with Revoria Flow SC11
Revoria Press SC170 with Revoria Flow SC12
Revoria Press SC180 with Revoria Flow SC11
Revoria Press SC180 with Revoria Flow SC12
These digital print engines, and digital front end (DFE) systems have been certified by Idealliance as capable of output requirements specified in ISO 12647-8, ISO 15311, and ISO 15339, through its extensive independent, third-party verification.
The Idealliance certification signifies that these five (5) Revoria Press systems have been recognized by the graphic communications and print industry as a class-leading digital press. Materials printed using the Revoria Press PC1120 with the Revoria Flow PC21 will achieve the absolute highest quality match across color fidelity according to international standards, in areas of color, print properties, and print production.
The Idealliance Digital Press Certification is given to the digital presses that meet or exceed established industry tolerances for excellence in the areas of Colorimetric Accuracy, Uniformity, Repeatability, Durability, and Registration. The certification program considers the entire press system, including the digital front-end, print engine, and paper.

Manage Print Production, including that of Certified Digital Press Systems by with Color Management Resources from Idealliance
Become a Certified Color Management & G7 Expert – Attend Idealliance On-demand or Live Instructor Led  Training & Certification