Color & Print Quality: A Key Focus of PRINTING United Expo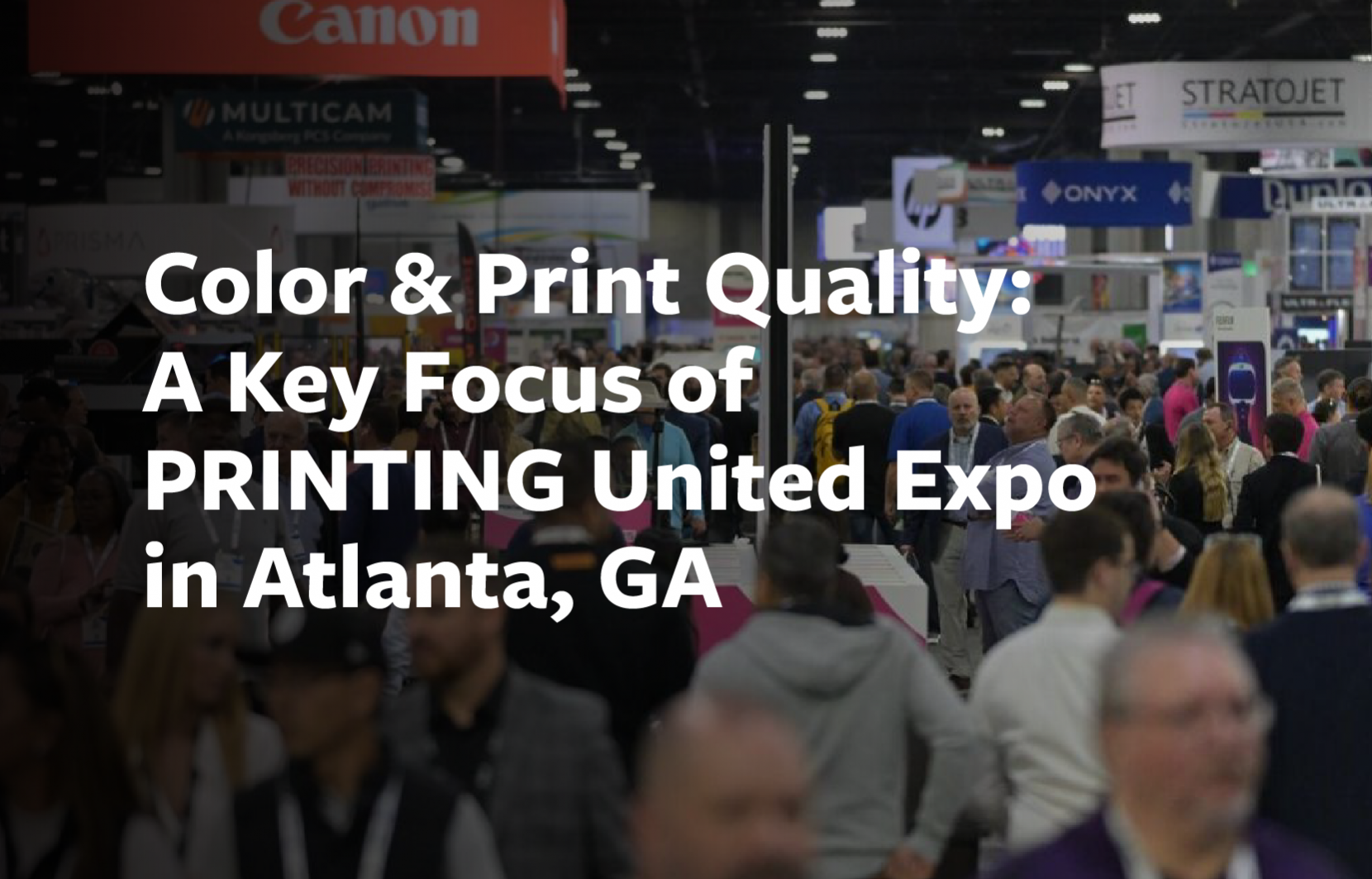 Following PRINTING United Expo in Atlanta, GA it is clear that the industry has taken a renewed focus on color & print quality to leverage the available technology. Color was on display across the Expo as leading print technology providers demonstrated their ability to produce innovative products across packaging, commercial print, wide format displays and graphics, inkjet, textile and other print applications.
Idealliance also as part of the Expo conducted G7 Expert training and certification on the show floor, leveraging print technology and solutions from Ricoh, EFI, and Fujifilm Graphics. Supported by a team of G7® Expert trainers, participants achieved G7 Expert certification after extensive hands-on demonstration of leading digital toner, inkjet, and wide format applications. This resulted in remarkable, consistent color, adhering to the G7 specification for near-neutral output across all these 4+ color print technologies.
Educational sessions were also available and led by leading G7 Expert's such as Ron Ellis, who addressed visual and colorimetric conformance and how brands and other color-critical print buyers take print quality to the next level from design to out. Jim Raffel also addressed color quality and identifying and understanding root causes of cringe-worthy color.
Also, around the show could be found technology driving leading print production adhering to the international print standards developed by Idealliance and other international standards organizations. Screen's Jet520HD+ with Screen EQUIOS v3.4, an Idealliance certified Digital Inkjet system, along with FUJIFILM JPress 750S, a dually certified Digital Inkjet System and ISO/PAS 15339 Digital Press System. Leading digital toner print technology was also in full force, demonstrating its capabilities similarly to leading print requirements and color conformance, such as Canon imagePRESS V900 series, driven by the latest Canon imagePRESS server N500. The newly certified Fujifilm Prevoria Press PC1120 with Fufjiflm Revoria Flow PC21 and ColorPath SYNC demonstrated the capabilities of Idealliance certified Digtial Press systems' ability to drive commercial print production electrophotography.
ColorLogic GmbH also presented CoPra 9 and ColorAnt 9, the latest Idealliance G7 system certified to provide G7 calibration for leading print conformance across multiple print technologies, along with ORIS Lynx, and Chromix Curve4.
In the textile arena, as work continues by the Idealliance Print Properties Committee to support standards in this segment, technology continues to innovate and expand as the industry addresses new colorants and textile variation for optimal print quality. Supporting these members, and members across the print industry will be a key focus of the Print Properties Committee in the coming years along side work in packaging, commercial print, large format, as well as colorimetry, process control, and creative workflows.
Leaving Atlanta, a renewed energy could be felt across the print community, including many familiar faces and newcomers as print expands to serve additional niches through industrial print, variable output, fulfillment, finishing, and DTF. Next year's PRINTING United Expo in Las Vegas, NV will continue this trend as printers, creatives, print buyers, and solution providers. In the meantime, PRINTING United Alliance continues to offer leading training & certification via its ever-expanding iLEARNING+ platform, the resource for knowledge and proficiency across our industry, along with the support and work of PRINTING United members as we address together further innovation, standards, and best practices.
Find a calendar of upcoming events at www.printing.org/events.
---