A Look Back as We Chart The Path Forward: Reference Printing Conditions – What Are They & Why Are They Important?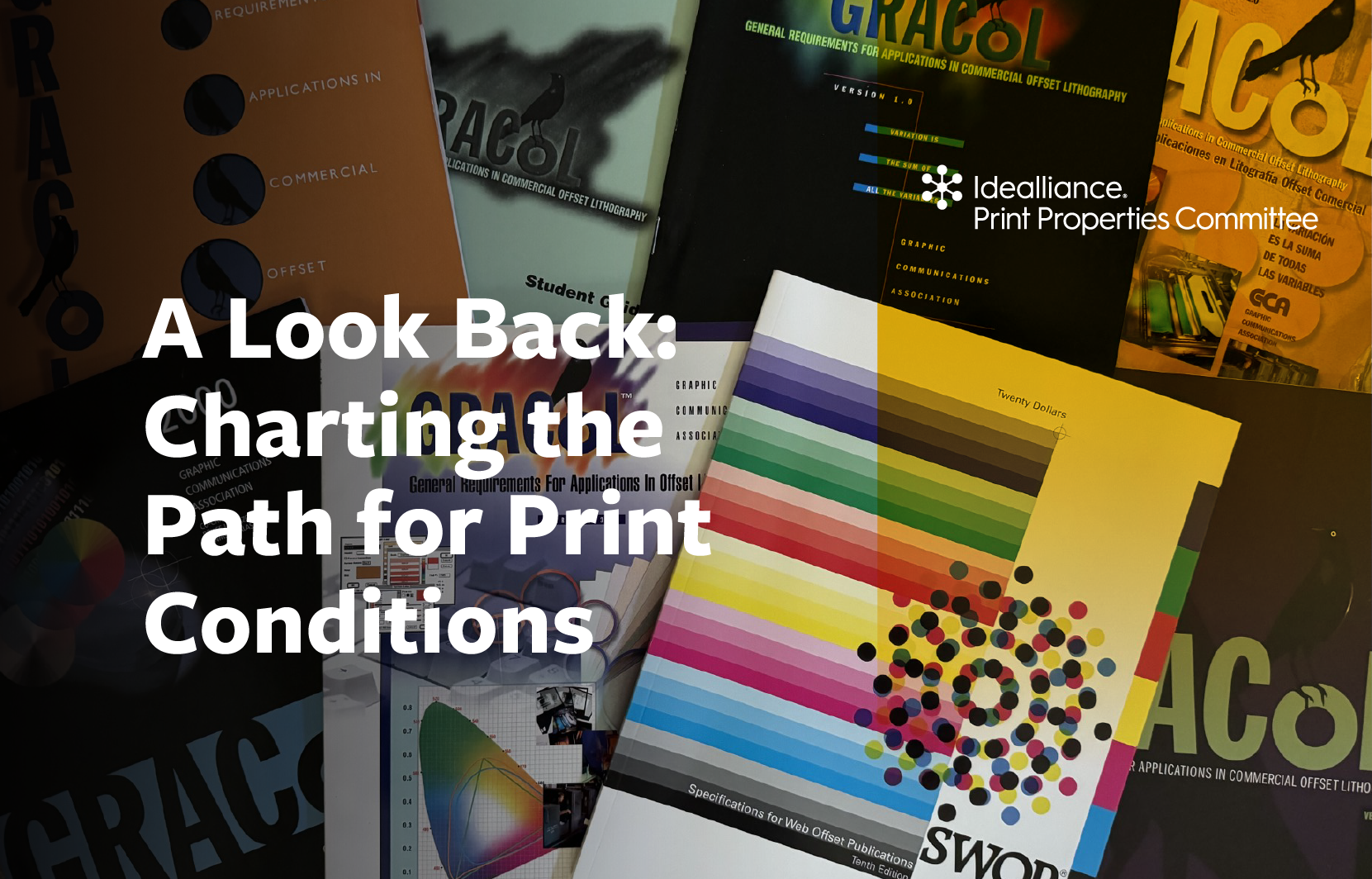 This week, we take a look back with David McDowell, an industry veteran and leader in color standards and specifications, and member of Idealliance Print Properties Committee. 

In 1999, Mr. McDowell published an article for the then IPA, "Reference Printing Conditions – What Are They & Why Are They Important?". As Idealliance's Print Properties Committee and international standards group continue to work together toward optimal reference print conditions Mr. McDowell's opinion is as timely as ever.  He describes methods for industry alignment, according to the specifications required by their print buyers and global brands across print media ranging from commercial print, packaging, large format media, and other graphic communications applications,
The seven Characterized Reference Print Conditions standardized in CGATS.21 and ISO/PAS 15339 were developed in 2013, and we are now close to a universal print standard for international use. Long before any of this was in place it is worth taking a look back to McDowell's 1999 article to see how remarkably accurate his forecast for the future of print conditions was:
"(F)ive or six reference printing conditions could cover the bulk of data exchange and proofing requirements for commercial, publication, and newsprint work. What a simplification that could offer!"
The technology at in 1999 from Scitex, Kodak and others provides an opportunity for alignment to newly implemented standards as digital workflow adoption grew. SWOP TR001 and SNAP were developed by Idealliance members from the SWOP committee (now a part of PRINTING United Alliance) to establish industry-wide reference for all printers to target. Similarly, now we find ourselves at a time when the print technology landscape has reached a point where multiple technologies can attain a similar, consistent, repeatable output state regardless of when, where, and how print is being produced.
Mr. McDowell wisely gave a call to action across the publication industry – and later across the print industry,  
"A Conclusion & A Challenge" We truly have an opportunity to change what has been a gradual evolution of the overall graphic arts workflow into a true revolution. It represents a significant step along the path to a digitally integrated workflow. This can only be a win-win situation for everyone.
The challenge! If you are involved in work that is aimed at (high-end commercial packaging and) printing and should be using (GRACoL) as the reference, ask your proofing, color separation, and color management vendors for tools based on TR001 data. If you are doing color measurements, get a copy of TR001 from (CGATS) and compare your results against the tabulated data. When you do any of the above, provide feedback to the (Standards Committee(s)) about your experiences so we can learn together."
As print standards organizations like the Print Properties Committee, CGATS, and ISO Technical Committee 130 continue the charge for further alignment, we again encourage all to come forward to contribute and support our mission to drive innovation, print quality, and color reproduction across the print landscape. 
Read the original full article here.
If you are interested in participating in international printing standards and the leading Ideallaince Print Properties Committee shaping our industry, visit www.idealliance.org/working-groups/ and become a member of PRINTING United Alliance here.