The Critical Importance of G7® in Digital Printing | BrandQ® Webinar
January 30, 2020

Category:

Events

,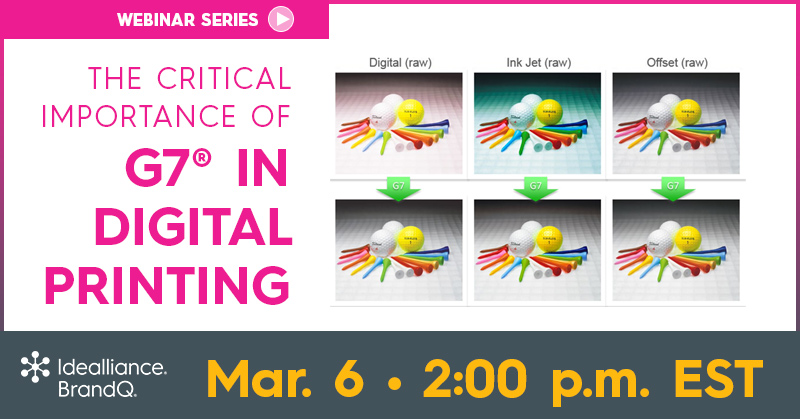 The Critical Importance of G7® in Digital Printing | BrandQ® Webinar
Friday, March 6, 2020 • 2:00 p.m. – 3:00 p.m. (Eastern Standard Time)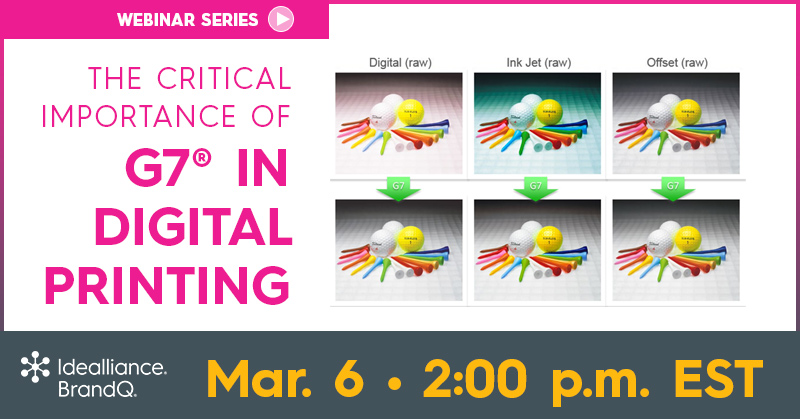 About the Webinar
In this webinar we will cover the ways in which G7 gives superpowers to the digital print workflow, ranging from specifying and defining print, all the way to maintaining and producing unbelievably consistent, extraordinarily high-quality printing.
One of the most dangerous things in the world is false knowledge. It is more dangerous than ignorance.
You may have heard the myth that G7 doesn't matter for digital print "because you can do it all with ICC profiles." This is one of the biggest misstatements in the industry.
Like many other people, brands, and print buyers, you may not be aware of the ways in which G7 is indispensably critical to buying and producing digital print. Perhaps you are more used to production in flexo, offset and gravure. This is why there is a great disconnect. The truth is that when you shift work to digital, understanding technology automation is critical including: color matching, the ability to share workflows with embedded OEM software, spot color reproduction and—most critically—the digital press capability and tolerance expectations.
Why G7?
G7® works across all print technologies regardless of inks or substrates. It provides: one file, one separation, one calibration, one aim point and ONE remarkable visual similar appearance, allowing companies to PRINT ANYWHERE™…Brilliantly.
All of this drives down cost, massively reduces waste, dramatically increases speed to market and increases profitability for everyone in the supply chain.
G7 is the #1 color specification in the world by an astronomical amount, with tens of thousands of facilities requiring and implementing its use. (The next best known has just over 200 facilities worldwide.) Compared to other, smaller color specifications, G7 is unbelievably consistent and crosses print technologies, leading to transformational efficiency, and bigger profits.
Global testimonials speak volumes as to why G7 is the #1 color specification in the world.
In this webinar you will learn:
How the best digital print providers and the largest brands in the world depend on G7® to power their workflows and supply chains.
How G7 dramatically increases efficiencies, reduces waste and drives profitability.
How print buyers use G7 to control and specify print.
Ways G7 is used when the gamut is bigger than traditional print standards.
How G7 supercharges an ICC workflow.
Register even if you can't attend live. Idealliance is a global organization. All registrants receive a recording of the webinar even if they are unable to attend due to time zone differences.
Moderators:
Timothy Baechle, CEO, Idealliance
Ron Ellis, Brand Expert and Chair of the Idealliance Print Properties & Colorimetric Council
Panelists:
Mike Todryk, Color Technical Specialist, IWCO Direct
Paul Nardello-Manager, PrePress & Printing, DGI Invisuals
This webinar is part of the Idealliance BrandQ® webinar series. BrandQ is about communication, education, and validation.