Print Quality Programs for Brands: Managing Excellence and Protecting Value
July 7, 2020

Category:

Events

,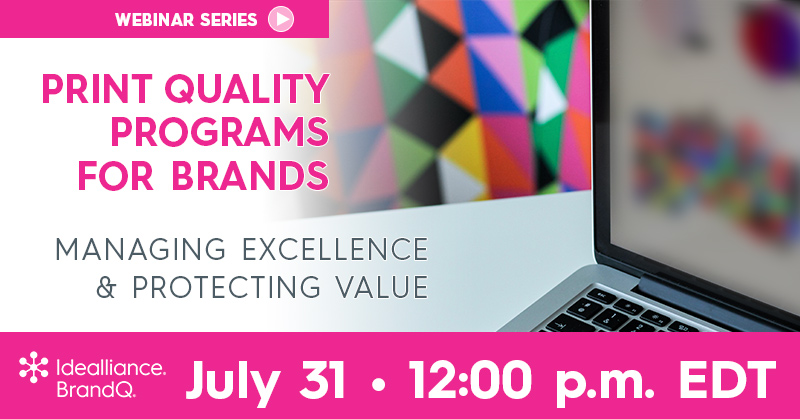 Decrease the number of approval rounds, reprints and in-person approvals through a properly implemented print quality program. 
Learn what you can do to manage your brand and protect its value at the next BrandQ® webinar:
Print Quality Programs for Brands | BrandQ® Webinar
Friday, July 31, 2020 • 12:00 p.m. – 1:00 p.m. (Eastern Daylight Time)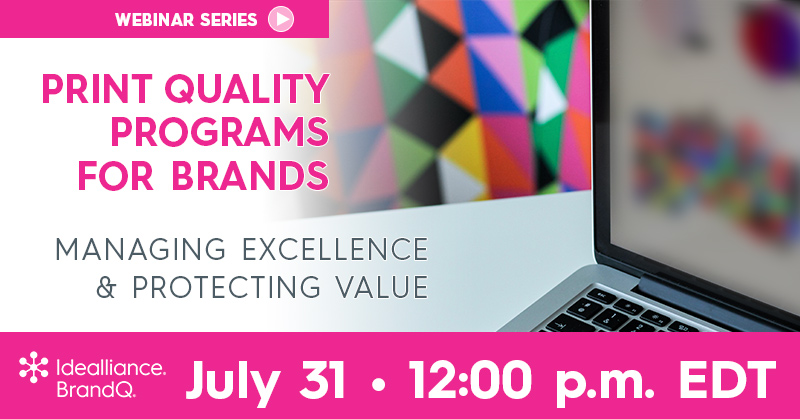 What brands get wrong with color and how they can get it right.
Brands spend a lot of energy, time and money to send the right message to their audience. Color says a lot about a brand; it's among the most recognizable brand elements. Color subtly communicates who a brand is and what their values are. Color also says a lot about how a brand operates. Their attention to detail, focus on quality and their commitment to consistency can all be conveyed subliminally through color.
Whether you manage an up-and-coming brand, or are in charge of a global network of brands, your concern is the same: getting consistent color on all your packaging—no matter where in the world it is printed, and no matter what substrate it's printed on. A properly implemented print quality program will help you streamline the entire print process, improve quality, reduce cost, time and headaches, and increase sales.
Print quality programs can seem overly complex and technical with a steep learning curve. Getting designers, procurement, purchasing managers, printers, and quality control experts to speak the same language can appear daunting. For example, what is "quality?" One person's quality is another person's after-thought. Bringing everyone together to agree on specific objectives, measurements, and terminology can feel burdensome and intrusive.
It's no wonder many brands are too overwhelmed to start.
This webinar goes beyond the objections to give you practical and proven methods and tactics to start to create a print quality program for your brand.
About the webinar
Our expert panelists will first explore the importance of tracking and controlling your print quality from a brand perspective. Then they will cover some common legacy methods of managing print that doesn't work at scale. Finally, they will share tangible ways to get started, avoid pitfalls, and develop a print quality program.
Join us on July 31st at 12 noon EDT to better understand and start your journey to consistent print quality for your brand.
The webinar will include 45-minutes of in-depth information and 15-minutes of Q&A.
Moderator:
Ron Ellis, Brand Expert and Chair of the Idealliance Print Properties & Colorimetric Council
Panelists:
Brian Keith, Print & Color Management Senior Program Manager of Packaging and Content at Microsoft

Sonja

Dearden, Print Production Manager at Lindt & Sprüngli (USA), Inc.
About the Presenters
Ron Ellis is a consultant specializing in color management, automation and workflow integration. An Idealliance G7 Expert, G7 Process Control Expert, G7 Expert Trainer, and chair of the GRACoL Committee, Ron has performed hundreds of G7 training and calibrations. He has conducted training and consulting for a wide range of customers in Europe, Asia, and North America, and is one of several trainers who can train and certify G7 Expert consultants. Well versed in ISO standards, he is certified as a PSA consultant as well as an FTA Flexo Level 2 Implementation Specialist, and was the primary developer of Idealliance's G7 Process Control program, and is the G7 PC Master Trainer. Ron specializes in creating and implementing working spaces for brands and agencies that allow them to work more efficiently with vendors, saving both time and money. Ron is published frequently in industry magazines, and has produced training materials and curriculum for numerous printing industry groups, manufacturers and publishers. He has over 30 years experience working in the graphic arts, and holds a Master of Education from the University of Massachusetts.
Brian Keith is the Print & Color Management Senior Program Manager of Packaging and Content at Microsoft in Redmond, WA. He has 20+ years of design, brand and packaging industry experience as well as extensive working experience with industry production and manufacturing standards and processes. Over Mr. Keith's tenure at Microsoft, he has helped launch world-class product packaging that meets stringent quality specifications while also meeting the requirements of a quality conscious and cost-effective worldwide supply chain. As Senior Product Manager, he led the creation and worldwide implementation of a new end-to-end color management program across Microsoft's worldwide supply chain and integrated industry standards and G7® methodologies into the program.
Sonja Dearden is the Print Production Manager at Lindt & Sprüngli (USA), Inc., in Stratham, NH, where she has worked for almost ten years. She has over 15 years of experience in graphic design, print production, and marketing. Her experience includes having managed prepress, press checks, brand compliance for more than 3,000 print jobs totaling more than $15M in print costs, and she has managed teams ranging in size from 2-30+ employees. In addition, Ms. Dearden wrote all G7 Standard Operating Procedures (SOPs) to be used by 80+ designers, vendors, marketing, and quality assurance team members, and completed over 50 hours of hands-on G7 training over 2 years to maintain the highest quality standards of global color consistency. Her specialties include G7®, print production, prepress, press checks, graphic design, package design, marketing, brand management, and more.
This webinar is part of the Idealliance BrandQ® webinar series. BrandQ teaches you how to optimize communication between the brand and supply chain.
Register even if you can't attend live. Idealliance is a global organization with members all over the world. All registrants receive a recording of the webinar even if they are unable to attend due to time zone differences.