Idealliance® Chooses Phoenix Technologies in Dubai, UAE to Lead Idealliance MENA Office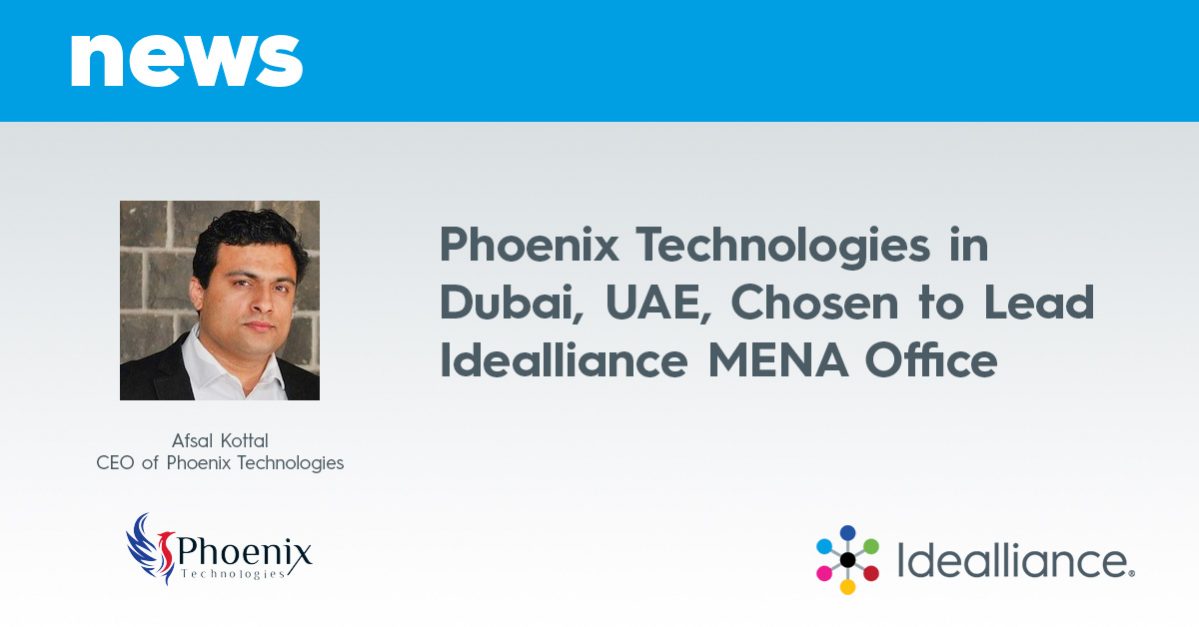 Alexandria, VA (February 13, 2020) – Idealliance, the global think tank, ISO standards developer, and certifying body for ISO, G7® colour specification, and brand supply chain management programs and consulting, has appointed Phoenix Technologies in Dubai, United Arab Emirates to head its Middle East/North Africa office (MENA). "There is a tremendous demand and need for colour consistency and brand supply chain management in our region," says Afsal Kottal, CEO of Phoenix Technologies.
"So many leading global brands are already mandating G7 certified colour to ensure that the same brilliant colour is reproduced anywhere in the world. With our coverage and customers in the region that extends throughout the Middle East and North Africa, there is a tremendous need for standardization, colour management for all print technologies, and helping our customers truly implement and manage a process controlled facility, putting out exceptional work that is visually similar, print after print." G7 is the Idealliance specification that uses grey-balance and visual appearance to calibrate and control any printing or proofing device, anywhere. It is also the #1 colour specification in the world, specified by the largest brands in the world and utilized by the largest service providers globally. It creates a supply chain workflow of one file, one separation, one calibration, one aim point and one remarkable visual similar appearance—PRINT ANYWHERE™…BRILLIANTLY—all lending to tremendous upsurge in efficiency, drastic waste reduction and exponential increase in profitability. Idealliance will have five main certifications and training that will be available through Idealliance MENA:
Idealliance CEO Tim Baechle says, of Phoenix Technologies, "I have known Afsal Kottal for a number of years, first meeting him in Shanghai, when he first became a G7 Expert. He has an extraordinary background in colour management, process control, standards, hardware, and software. His press management knowledge and operational aptitude is simply exceptional. He has built a tremendous company and serves a vast amount of companies and certainly top companies in the region. His expertise and the expertise of his team, along with their plethora of service offerings, consulting, hardware, and software solutions from the biggest names in the world, such as: X-Rite PANTONE®, GMG Colour, Enfocus, IGT, Inkmaker, Harper and so many others blends so nicely into weaving the supply chain together. Plus, their knowledge and expertise on all print technologies and who they serve will greatly benefit from G7 and many other programs of Idealliance. We are extremely proud to have Afsal and Phoenix Technologies leading Idealliance MENA." Kottal adds, "Idealliance is passionate about colour accuracy and has members of notable companies such as Microsoft, Sony, Lindt & Sprüngli, Ricoh, Canon and West Rock on its board of directors. This sits very well with the work Phoenix Technologies is engaged in with ISO 12647 certification and other colour management workflow projects and consulting. Phoenix Technologies, along with Idealliance and their world-renowned partners, will conduct regular in-house training programmes, with all equipment and software. The training will have specialized topics such as those involving Design, Prepress Workflow & Automation, Keyline and Die Making, Colour Management for Offset/Flexo/Gravure, Ink formulation for Offset/Flexo/Gravure, Press Standardisations and Automating Press Room Colour Control, Inspection Systems, Data Collection, and Shop Floor Management. "Anyone who attends the Phoenix/Idealliance MENA training will return to his or her organisation with valuable, implementable knowledge. Post-training, they can implement quality targets expected by brand owners, improve productivity and reduce cost of operations in a scientific way. To start, our first G7 Expert Certification Training is planned to be held on April 7-9, 2020 in Dubai, UAE" said Afsal Kottal. To stay engaged and informed in the work of Idealliance, please follow us on LinkedIn.
---
ABOUT IDEALLIANCE
Powering the Supply Chain® Print Anywhere™…Brilliantly Idealliance, a global think tank, is a non-profit graphic communications industry organization with 12 strategically located offices around the world. Idealliance serves brands, OEMs, service providers in print and packaging, content & media creators, creative agencies/design teams, material suppliers, and innovators & developers worldwide. We do our work through ISO Standards Innovation, Print and Digital Workflows & Technologies Development & Integration, Technical Research, Certification, Training, Brand & Facility Auditing Programs, Brand Strategy Consulting/Premedia and we serve as a Global Super Connector for brands, print buyers, service providers, & OEMs throughout the world. Our specifications have transformed the graphic communications industry by defining production workflows for color (GRACoL®, SWOP®, XCMYK™, G7®, and BrandQ®). Idealliance is the world's foremost certifying body for competencies, systems, materials, and facilities, and Idealliance, a Liaison 'A' to ISO TC130, is one of the world's largest contributors and developers of ISO standards. Join us in creating the future of our industry. www.idealliance.org | (703) 837-1070