G7 Expert Virtual Open House | Mike Whelpley, Fujifilm Graphic Systems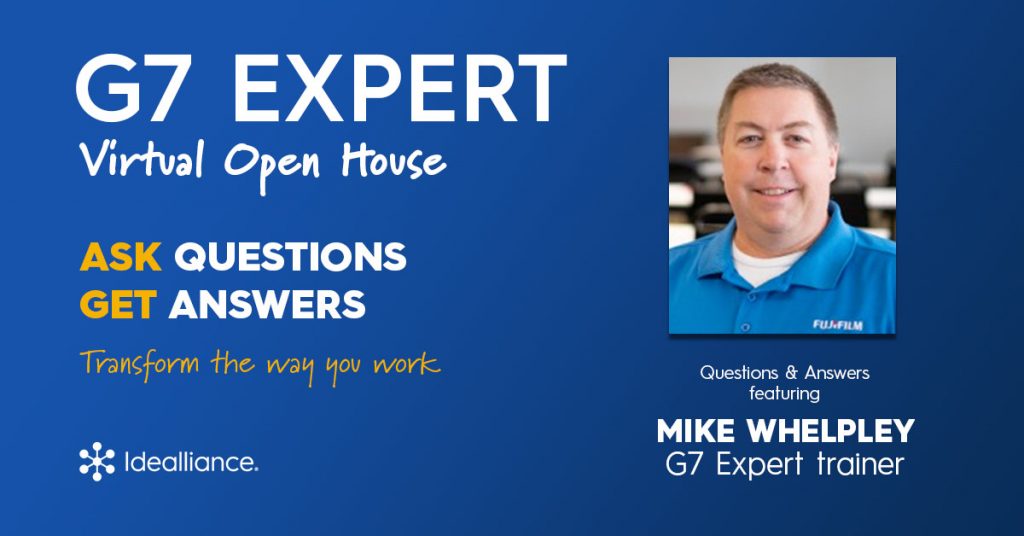 Meet Your G7® Expert Trainer | Mike Whelpley, Fujifilm Graphic Systems
Learn from G7® Expert Trainer Mike Whelpley as he describes what the G7 Expert training will be like, broadcasted from the Fujifilm Graphics Innovation Hub, and answers questions about what to expect during the class.
About Mike Whelpley, Fujifilm Graphics North America
Mike has 30 years of experience working with professional print providers to align their printing and proofing systems for color accuracy and industry specifications. His experience encompasses conventional and digital offset print, flexographic print and digital ink-jet and wide format printing and proofing. Currently he is Solutions Development Manager for ColorPath Software and Field Implementation. He is also a certified Idealliance G7 Expert Trainer and is responsible for all private and public G7 Expert and G7 Professional training programs held at FUJIFILM Graphic Systems Division.
Got a specific question for Mike or about the G7 Expert Training? Submit your questions or comments below for a personalized response:
Learn from G7® Expert Trainer Mike Whelpley as he answers your questions about G7 and G7 Expert Training.
Q&A Includes:
Who is G7 for? Who should look into getting trained in the G7 methodology?
How do you explain G7? Is it a standard or a process?
How do you deal with paper instability when ink acceptance varies over a sheet area and dot gain can differ a lot over sheet area? Is averaging it enough?
When talking about Expanded Color Gamut (ECG): at a high level, what can you tell us about where the industry is headed with regard to incorporating G7 and ECG? 
and much much more…
NEXT STEPS: Register to become a Certified G7® Expert!
Register for the upcoming live online training, led by G7 Expert Trainer Mike Whelpley, in partnership with Fujifilm Graphic Systems.
Dates: June 21-25
Time: 1:00 pm – 5:00 pm ET each day.
Learn More: Register here »
INTERESTED IN BECOMING A G7 EXPERT?

Set up a 15-minute call with Mike Grady, Vice President of Global Partnerships, to explore whether G7 is right for your company.
mgrady@idealliance.org | 703.837.1068