BrandQ® Certified Supply Chain Facility
Idealliance BrandQ Certified Supply Chain Facilities serve the most stringent brands and print buyers who demand critical consistency regardless of where and how their printed products are produced. They are aligned to global ISO process standards for the complete supply chain.
This elite certification provides comprehensive documented 3rd party auditing to meet the highest standards of performance for brand alignment through certified credentials, reports and regularly scheduled audits for those serving brands and brand owners of consumer-packaged goods. 
The BrandQ® Certified Supply Chain Facility program was designed with a low cost of entry that enables brand communication and provides a comprehensive and efficient method of evaluation for the brands to assess the supply chain, to ensure they are meeting brand expectations and needs.
This program assesses key aspects such as process capability, performance, process control, color management, ISO Standards implementation, proof and press alignment, spot color rendering, pre-media capabilities, G7 calibration, and includes detailed reports and analysis. In addition, it enables clear communication between brand owners and suppliers on the brand owner's expectations, evaluation methodology, aims and tolerances, and validation process.
In contrast to other programs that are costly and cumbersome, put a stranglehold on printers, and do not provide an effective way for brands and printers to communicate, this certification assures a high level of quality and performance and helps the supplier work to retain this distinction.
Ultimately, Idealliance BrandQ facility certification leads to overall operational efficiency, process control, measurement controls, and data that can be shared between a print service provider and brands, brand owners and print buyers. This enables efficient communication and data exchange for everyone. 
Globally Recognized Certification Benefits
BrandQ Certified Supply Chain Facilities are qualified to handle the most demanding jobs in the world. The certification demonstrates to brands, brand owners, and print buyers that a packaging and printing facility can meet and maintain the highest quality standards.
This communication protocol creates a wonderful partnership for job specification exchange, regardless of language and regardless of location in the world.
Idealliance BrandQ Supply Chain Certification includes three components:
Performed by an Idealliance certified BrandQ Supply Chain Expert. Auditing includes:
Working Space
Specifying Printing Aims
Evaluation of Proof and Material to Aims
PDFX Fundamentals
Data Reception & Creation
Platemaking/Pre-Press
G7 Calibration Implementation
Ink & Chemistry
Color Theory
G7 Theory Understanding and Practice
Applying CIELAB and G7 Color Metrics
Relative Paper Theory and Application
Process Capability and Classification Performance
Soft Proofing
Process Control
Trending & Analysis
Hardcopy Proofing
Viewing Conditions
G7 Compliance Levels
Client Training-All Levels
ISO Documentation
Digital Calibration
Standard Operation Procedures
Digital Test
Spot Colors including Solids and Tone Value Increase
Proof Alignment
Press Alignment
G7 Master Qualification methodology
Contract proofs and press sheets evaluated by the 3rd party independent lab
Evaluation report
G7 Master Qualification methodology
Quarterly evaluation report
How To Become a BrandQ® Certified Supply Chain Facility
Have an Idealliance BrandQ Expert visit your print facility.
You can hire a BrandQ Expert consultant by visiting Idealliance.org/directory.
He or she will conduct your calibration and facility audit to complete the application.
An online application and print verification will be submitted to Idealliance's independent 3rd party analysis lab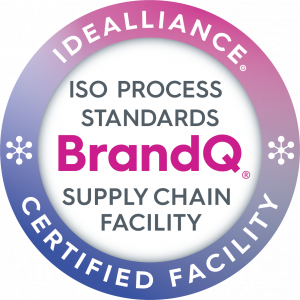 Once approved, your BrandQ Supply Chain Facility Certification will be granted.
BrandQ Certified Supply Chain Facility Submission Fees
New BrandQ Certified Facility Submission
Application Fee – $1800*
Existing G7 Master Facility or G7 Process Control Master Facility Upgrade
Application Fee – $1350*
Annual Renewal and Submission: $1350*
Additional Device Submission: $450
Optional Quarterly Submission: $350
Fee examples:
New Submission: Non-G7 Master Qualified Facility
1 Proofer, 1 Press
Includes Full Audit, Assessment, and Evaluation of Print Samples for 1 press and 1 proofing device: $1800 Total
Renewal Submission: BrandQ Certified Supply Chain Facility
1 Proofer, 2 Presses
$1350 Annual Renewal + $450 Additional Device Submission: $1800 Total 
Additional Certification Details
Each facility certification application includes evaluation and assessment of (2) output devices, (1) press and (1) proofer
Includes listing in the BrandQ Global Directory, an audited database of BrandQ Facilities and BrandQ Experts in good standing, who've met the requirements of Idealliance BrandQ to support brands and the global packaging supply chain.
Certification is good for one year and must be renewed annually by an Idealliance certified BrandQ Supply Chain Expert within 90 days of certification expiration
Consulting fees may be additional as per your BrandQ Certified Supply Chain Expert and are negotiated with, and paid to the BrandQ Expert.